Man Comes Up With Genius Plan To Feed Neighbour's Cat When Keys Are Misplaced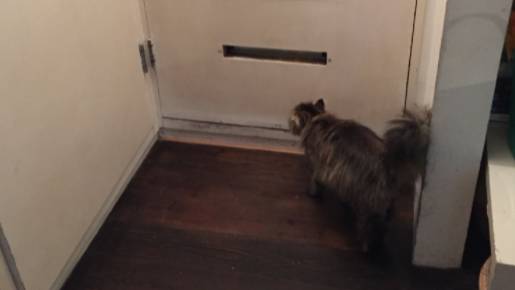 Being entrusted to look after someone's beloved pet is a pretty big deal, especially in the UK where most people care more about their pets than the human members of their family.
So, naturally, you want to do the very best you can to make sure that the pet is well cared for, you don't want them coming home to a dead pet, do you?
And so, to Jeremy Banks, a cartoonist who works under the name Banx, who went above and beyond to ensure his neighbour's cat got fed over the Easter bank holiday weekend.
Neighbour Andrew asked Jeremey's daughters to look after his cat - Milly - while he was on away on holiday, something they'd done before, no big deal. Except, a mix-up with the keys meant that he was left with no option but to 'post' cat food through the letterbox
Jeremy told LADbible: "Andrew texted me to say that someone in his office would drop the keys to his house late that evening. I went to bed and the next day saw that no keys had arrived.
"I texted Andrew and it turned out his man had put the keys through the wrong door. I knocked on a few doors but it soon became apparent that the people living in the house with the keys had gone away for the Easter break.
"There are no other keys. Andrew suggests I leave some food in a bowl on a low roof by their garden wall. They live in a corner house. So, I call 'Milly' repeatedly but get no luck. She's not budging.
"I go to front of house and knock on window of front room. Milly comes rushing to window. She hasn't eaten all day and is very keen to see me. I try miming that she should go to the garden and get her food but despite my best miming efforts she just gapes at me, miaowing." Typical cat behaviour.
Undeterred by Milly's attitude, Jeremy has an idea.
"I don't like the idea of leaving the food outside as other cats might get it and that's when I get the idea of squeezing the food through the letter box," he tells LADbible.
"I can't really make great claims for this idea. I quite simply couldn't think of any other way of getting food to the cat.
"I check with Andrew if it's OK to squeeze cat food through his letterbox, anticipating it will get rather messy. Andrew is fine with it so that's what happened."
Now, if you're wondering how the cat is doing, she's fine. See, here she is waiting for more food to come through the magical door:
And if you're wondering how the floor was, it's also fine.
So, all is well that ends well.