Eurovision fans in stitches after watching Finland's 'Cha Cha Cha' song with subtitles on
Eurovision fans have been left in stitches after watching Finland's 'Cha Cha Cha' song with subtitles on.
Finnish star Käärijä took to the stage in Liverpool with 'Cha Cha Cha', a fusion of rap, electronica, metal and schlager, turning heads as he danced away in a neon green bolero jacket.
The experimental rapper been making music since 2014, having written his Eurovision 2023 entry with two friends, multi-platinum selling producer and songwriter Johannes 'Kiro' Naukkarinen and producer Aleksi Nurmi.
But while many of us were baffled by the on-stage action, watching as Käärijä danced his way around a bunch of wooden pallets, some watching at home had had the brainwave to put subtitles on - and they did not disappoint.
One wrote: "The joys of subtitles. I wouldn't have guessed pina coladas featured quite so heavily in Finland's song."
Someone else tweeted: "Feel sorry for people who watched Finland without the subtitles."
A third wrote: "Finland to win! ChaChaCha. I hope you're all watching with the English subtitles on as he's singing about having a drink of pina colada, holding it with both hands & heading to the dance floor."
TV critic Scott Bryan also urged: "PUT THE SUBTITLES ON."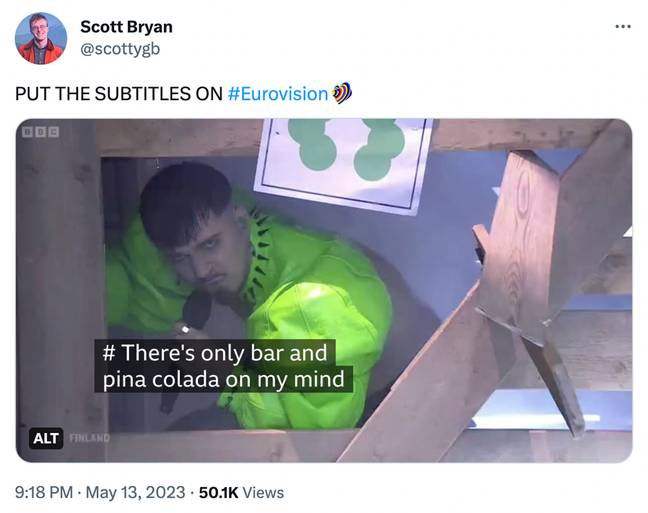 One viewer joked: "New Wolverine film looks different."
Someone else tweeted: "Who knew Wolverine had such a voice! Not sure why she was getting attacked by invisible ninjas though?"
Another wrote: "Wolverine's knocking out of the park at #Eurovision."
Last year's contest was won by Ukraine's Kalush Orchestra, who were crowned victors having amassed 631 points from both public and jury votes.
However, due to the ongoing war against Russia in the country, organisers decided it was too risky to host it there for 2023 – as is customary for winning nations – meaning duties fell to the UK, which ended as runner-up.
Members of Kalush Orchestra were actually fighting on the frontline in the Ukraine war before being given special permission to compete in Eurovision.
The UK's Sam Ryder produced the country's strongest finish in decades with 'Space Man', having won the jury vote for a total of 466 points.
He fared better than any other entry since 1997, which was the last time the UK won Eurovision with Katrina and the Waves' 'Love Shine a Light'.
Since then, the UK has finished rock bottom several times - including 2021's entry, where James Newman managed to score zero points.