Huge Queue At First Burger King Drive-Thru To Reopen For Takeaways
If, like most of the country, you are REALLY missing your favourite fast food joint, then you are quite clearly not alone - in fact, people were queuing around the block to get their hands on a Burger King, after the first one re-opened in Hampshire yesterday (Wednesday 29 April).
Even if BK isn't your fast-food chain of choice, a lot of us will take what we can get at this stage - and these motorists were clearly happy to wait for their fix.
Photos of the re-opened store show huge queues of cars outside the chain and in the surrounding area, with staff giving out the food in masks and disposable gloves.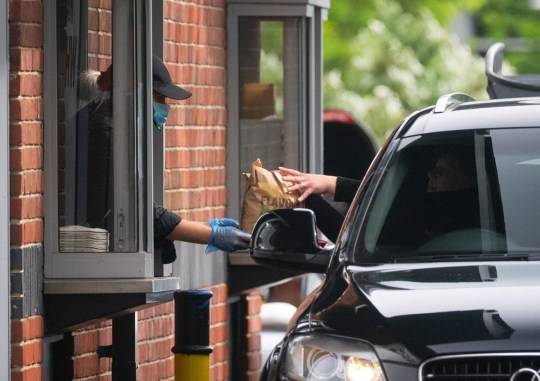 The restaurant, in Havant, Hampshire, was the first to reopen in the UK after all fast food outlets closed in the wake of the UK's lockdown restrictions, in response to the coronavirus pandemic.
When it opened at midday, cars could be seen blocking the town's roads, with people gagging to get at the stores meals.
Although the Havant store is the only one open for drive-thru so far, Burger King also announced that more of its stores have reopened this week for deliveries, with an aim of reopening a branch in every city by 31 May.
The restaurants open now are:
Aberdeen
Dundee
Havant
Hillington
Merton
Reading
Springfield Quay
Southampton
All the newly reopened Burger Kings will start service from midday and close at 11pm, and you can place your orders on Deliveroo and Just Eat.
Bear in mind though, you won't be able to order everything, but some of the usual favourites will be available, including the Chicken Royale, Bacon Double Cheeseburger, and - of course - the Whopper.
The move was announced earlier this week, with Burger King also committing to training all staff on the government's social distancing measures. That means the kitchen the food is cooked in will remain hygienic and safe.

On top of that, the fast food giant has agreed to donate 1,000 meals each week to the good folks who are keeping the NHS afloat at this crucial time.
Katie Evans, Marketing Director at Burger King UK, said: "We hope that re-opening these restaurants for delivery services goes some way to lifting our customers' spirits in these difficult times.
"We are committed to providing 1,000 meals a week to NHS staff based in the vicinity of these restaurants as we want to demonstrate how appreciative everyone at Burger King UK is of their efforts in these unprecedented times."
The beginning of a return to normality is definitely a welcome sight.