Green colour vapes could be more damaging than others, according to study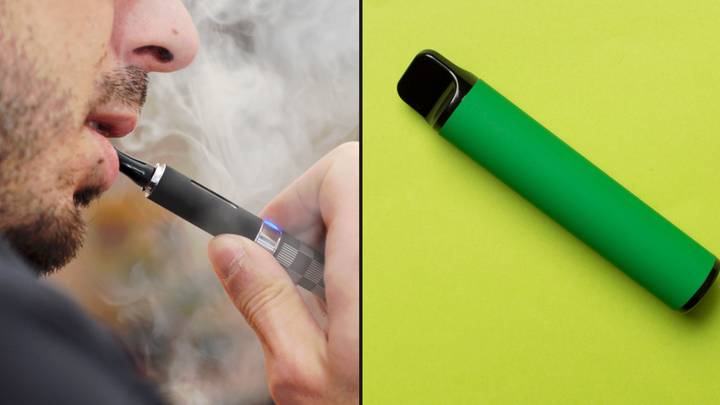 A new study has revealed green vapes could be more damaging to your health.
Moving away from the use of rats, mice or growing cells in a lab, a group of researchers used a 'vaping robot' - as well as examining the medical records of vapers - to figure out if a certain flavour of vape is worse for you than others.
The vaping robot helped researchers look at how adding certain flavourings to vaping liquids affects how badly the smoking devices impact your health.
The robot did this by mimicking how humans use vapes - from the puff volume and duration of vaping, to the temperature and humidity too.
In doing so, the robot figured out the pattern of healthy breathing versus diseased breathing and predicted how toxic certain vapes are for the lungs.
And unfortunately for green vape lovers, mint is more toxic than others.
The study look at menthol vape products - mint vapes typically sold in green packaging - and discovered they could have more harmful effects on the body opposed to non-menthol flavours.
Researchers backed this up by looking at medical records of vapers too.
Irrespective of age, race, gender, as well as whether someone smokes nicotine or cannabis products, the records showed those who smoke menthol flavoured vapes took shallower breaths and their lung function was worse than vapers who puff away on other flavoured devices.
Senior author of the study and associate professor at the University of Pittsburgh School of Medicine Kambez H Benam said: "Many people, especially youth, erroneously assume that vaping is safe, but even nicotine-free vaping mixtures contain many compounds that can potentially damage the lungs.
"Just because something is safe to consume as food does not mean that it's safe to inhale."
The research was published in the Respiratory Research journal on Tuesday (26 September).
Just as well I'm sat here with a pink vape then, eh? Well, if anyone else had the same thought, unfortunately your vape can be any colour of the rainbow and it still has negative effects on multiple parts of your body - not just your lungs.
Yes, vapes don't just badly impact the part of your body you use to breathe, but can also damage several other areas such as your eyes, nose, throat, skin, brain, heart, kidneys, lungs and liver too.
If that wasn't enough to put you off vaping, then maybe you should read about all the good things which will happen to your body if you choose to stop?