350 year old painting shows 'proof' of time travel as man uses iPhone
Officially, the geezer in this 350-year-old painting is supposed to be 'handing a letter' to the woman sitting in front of him.
Our message to Pieter De Hooch, the 17th century Dutch artist behind the painting? Come off it, mate.
That's no letter, that's an iPhone. And judging by the guy holding the iPhone's rigid stance, he's just received a push notification about Liz Truss's latest antics.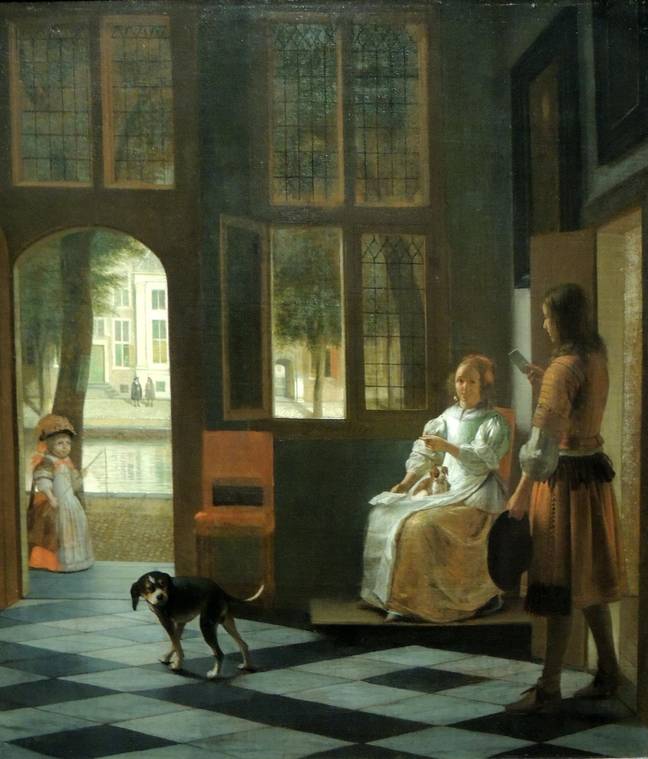 Hooch is best remembered for his paintings of domestic scenes, and in this particular piece of work - aptly titled 'Man hands a letter to a woman in a hall' - a woman can be seen sitting on a chair with a small dog in her lap as a man hands her a letter.
Still not convinced the painting is proof of humankind's ability to traverse mind-bending paradoxes? Well, perhaps Apple CEO Tim Cook can sway your opinion.
Back in 2016, Cook paid a visit to Amsterdam's Rijksmuseum, where the painting is on display, and was dumbfounded by how much it looked like the subject was holding an iPhone.
Speaking to a crowd the day after his gallery visit, he said 'there was an iPhone' in Hooch's painting.
Cook explained he was taken to the museum by Neelie Kroes, a former Dutch politician, who quipped to people at The Start-up Fest: "Do you happen to know Tim, where and when the iPhone was invented?"
Cook replied: "You know, I thought I knew until last night. Last night Neelie took me over to look at some Rembrandt and in one of the paintings I was so shocked. There was an iPhone in one of the paintings."
He added: "It's tough to see but I swear it's there. I always thought I knew when the iPhone was invented, but now I'm not so sure anymore."
LADbible would reach out to Hooch's representatives for comment, but he hasn't been around since 1684.
And it's not the first time people were left convinced they'd spotted an iPhone - which was invented in 2007 - in an old painting.
When The Expected One, an 1860 painting by Ferdinand George Waldmüller, was on display in Munich's Neue Pinakothek museum, one viewer was left convinced they'd spotted an Apple gadget in the artwork.
The painting depicts a serene scene of a young woman engrossed in what we can only assume is a book while a young man looks on, waiting to present her with a flower.
After viewing the painting, Peter Russell, a retired local Glasgow Government officer, told Vice: "No one could fail to see the resemblance to the scene of a teenage girl absorbed in social media on their smartphone."