King Charles was taken off guard when a member of the public gave him a pen 'just in case'. Have a look at how the new head-of-state reacted:
The new monarch made his first official visit to Wales yesterday (Friday 16 September), and while greeting well-wishers one handed him a pen.
After initially seeming confused by the gesture, the woman explained: "Just in case."
Fortunately, the new King appeared to see the funny side of it, laughing along with onlookers - rather than demanding her head on a spike.
If you've not closely followed the events of the last week, the funny side of this interaction will be lost on you completely.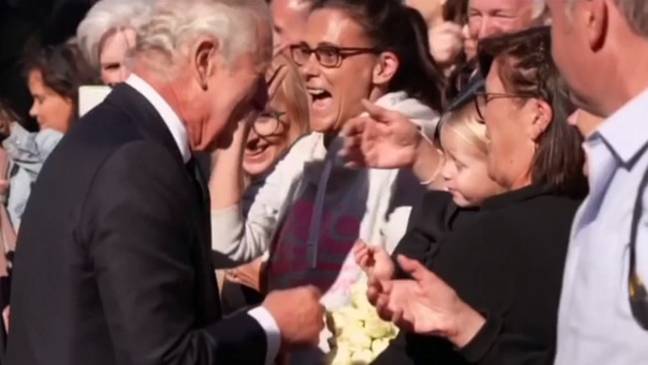 Essentially, the cheeky well-wisher was referencing two pen-based mishaps the 73-year-old has endured since his ascension.
It's been an incredibly busy period for Charles, who since the death of the Queen on 8 September has become the new monarch, moving from ceremony to ceremony ever since.
At the same time, he has been grieving the loss of his mother with the eyes of the world upon him, which cannot be easy, and on a couple of occasions he has snapped - over pens.
And on Wednesday (14 September), another pen drew the ire of the King while at the royal residence of Hillsborough Castle in Co Down in Northern Ireland, when ink appeared to drip from the pen as he tried to sign a book.
Getting up from his chair, he said: "I can't bear this bloody thing... every stinking time."
But while signing the visitors' book at Llandaff Cathedral, in Wales, earlier today (Friday 16 September), there was no such drama.
On Twitter, one person wrote: "King Charles is a problem-solver!!"
Another added: "King Charles has produced his own pen in Cardiff. Passed it in to Camilla. No ink stains. All is well with the world."
Charles is known to carry his own fountain pen for when he is frequently called on to sign visitors' books during royal visits, so hopefully there won't be as many incidents when he's using his own tried and tested pen.
I say that, the pen perils have actually brought some much needed lightheartedness in what has been a pretty sombre week for the nation. So actually, scrap that - bring on more pen problems, please.