Google Maps images of UK's '7-circle' magic roundabout show drivers in utter chaos
When you come to do your driving test, there are a few things that give any learner the dreaded fear.
First, there's the three-point turn, or maybe having to parallel park, and don't get me started on reversing around a corner.
But if there's one thing that really stumps fledgling motorists, it has to be he seemingly innocent roundabout.
At a glance, it shouldn't really be a problem, just keep an eye out for oncoming traffic, pick your moment, and then safely move out, picking one of the several exits.
Made up of five mini roundabouts encircling a central roundabout, plus a larger roundabout around the outside that goes the opposite way, it really is something to behold. Enough to give you nightmares.
Commenting on one post about it, a driver said: "As an American, I am indeed frightened by this."
While another simply said: "American here - I think the f**k not."
I mean, as someone who lives in this country, it scares the living hell out of me.
But it's easy to just describe it to you, why don't we have a see how it looks on Google Maps, which shows the utter chaos it appears to cause.
I mean, just look at it; there are dozens of cars all descending on the maze of circles that appear, to the naked eye, to have no rhyme nor reason to them.
The roundabout in the middle goes the wrong way, for crying out loud!
However, having said that, it's been in operation in the town since the 1970s, so it must work... in some strange, twisted way it must work.
It's not the first time the 'Magic Roundabout' has caught people's attention, though.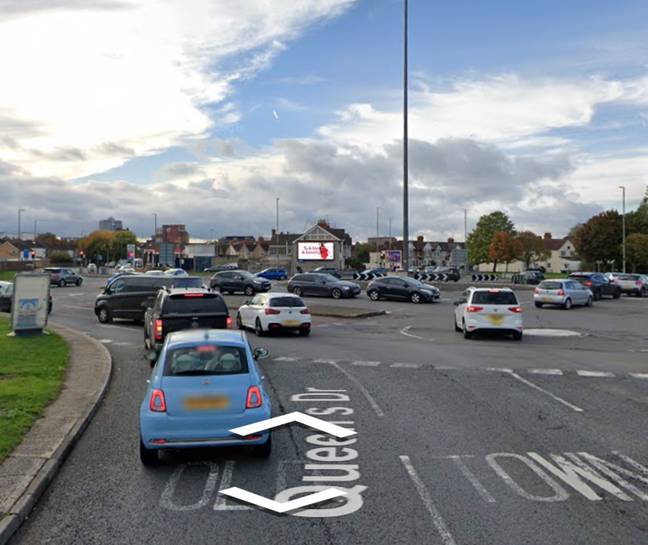 Tourists were taken aback by the monstrosity when someone shared an aerial snap to Reddit recently.
But while plenty of people were terrified by the prospect of having to navigate it, others relished the challenge.
"I'm from New England.. bring it on, we got traffic circles, rotaries and roundabouts all over the place," said one confident motorist. "This one looks fun!"
It's not the only roundabout to confuse drivers, though.
Footage shared on social media showed US drivers - who rarely have to tackle roundabouts - attempting to take it on, and it was unsurprisingly met with a fair bit of confusion.
Many were actually filmed taking the wrong exits, or sometimes even heading completely the wrong way around the roundabout.