Mum Tracks Down Stolen Car With Kid Still Inside Using Quick-Thinking Method
A mother was able to track down her stolen car with her child still inside using simple iPhone technology, allowing police to respond 'immediately'.
On 4 April, mum Jerrica Moore pulled into a parking lot and stepped out of her vehicle, leaving her keys and nine-year-old son inside.
According to Atlanta Police Department, a man then suddenly 'jumped into her vehicle and sped away from the location with her child still in the car'.
However, quick-thinking Moore used the Find My iPhone app to track her son's phone, and in turn was able to give police real-time information on the vehicle's exact whereabouts.
In a Facebook post, Atlanta Police Department explained how officers from Georgia State Patrol were able to immobilise the car remotely, and the suspect was 'quickly' taken into custody while the child crawled out of the backseat window to safety.
The force said: "On Monday, April 4, 2022, at approximately 8:45 a.m., officers responded to 888 Ralph David Abernathy Blvd SW in reference to stolen auto with child inside. Upon arrival, officers met with caller, Ms. Jerrica Moore who advised she had pulled into the parking lot of the location, where she exited her vehicle, leaving her keys and her nine-year-old son inside.
"Suddenly an unknown male jumped into her vehicle and sped away from the location with her child still in the car."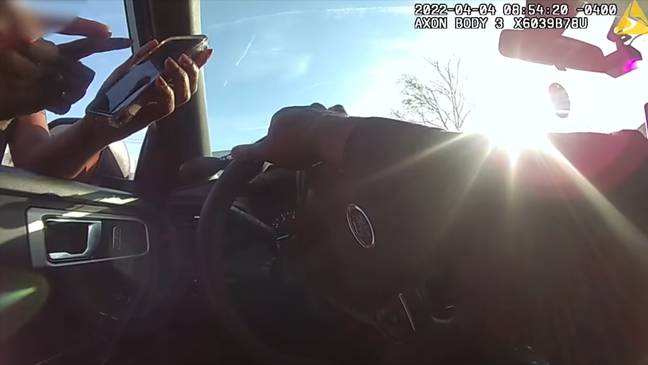 The post continued: "Officers immediately responded to the scene and began their preliminary investigation. Ms. Moore was able to track her son's iPhone using 'my location' and relay real time tracking information to officers.
"Atlanta Police with the assistance of Georgia State Patrol (GSP), Fulton County PD and the Fulton County Sheriff's responded and used the tracking information to work at locating the vehicle. An Atlanta officer was able to spot the vehicle being closely pursued by GSP. The suspect attempted to flee from officers, but GSP was able to successfully execute a precision immobilisation technique (PIT) to render the vehicle immobile."
Police named the suspect as Darius White, who was taken into custody 'without incident' before being charged with kidnapping, cruelty towards children, and theft by taking.
Amber Rollins, director at Kids and Car Safety, warned that such incidents can happen anywhere.
She told Fox News: "This is happening in safe, nice neighbourhoods, convenience stores, daycares, in the driveways of people's homes.
"It's a crime of opportunity. Thieves know when people are going to leave their car running while they just run in somewhere. No amount of time is safe.
"Bad guys are going to take advantage of the opportunity, and they don't see the child in the back seat until they've already taken the car."