Following the news that Donald Trump is planning to ban TikTok in the US, a number of the social media platform's biggest stars are speaking out.
Addison Rae, Dixie D'Amelio and Tre Clements are a few of the app's biggest stars who vented their frustration over the potential block, which the US President said could come into effect from today (1 August).
With a 53-million-strong following, it's no surprise social media personality and dancer Addison Rae is annoyed at the move. Her latest tweets simply state 'bitter' and 'send flowers pls', appearing to allude to Trump's announcement.
D'Amelio was equally elusive, sharing a video of herself frowning with a caption that says 'yeah' to her 32 million TikTok followers.
Elsewhere, Clements spoke a little more explicitly about the ban with a video sent to his 2.6 million fans in which he says: "Trump is going to ban one of our only sources of happiness... This is a dictatorship not a democracy."
Michael Le, who amassed a whopping 35.5 million followers, sent out a heartfelt goodbye, stating: "This is officially my last TikTok. I love you guys, this has been a hell of a journey, hell of a ride. Thank you guys for everything."
Many of the estimated 80 million Americans who are said to use the video-sharing app are equally outraged at the news, with TikTok stars rushing to say their goodbyes to the fanbase that made them famous.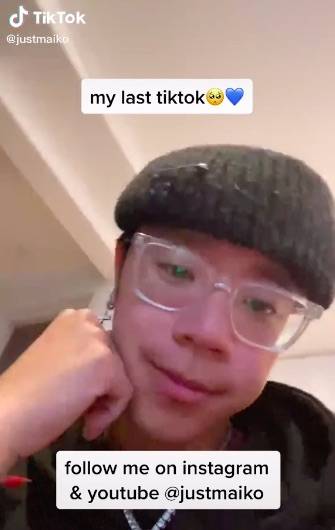 But unlike the other social media sites that have risen into the mainstream over the past decade, TikTok is set to be cut in its prime for a significant share of its users.
The move comes amid heightening concerns from US security officials that the app, owned by Chinese firm ByteDance, could be used to collect the personal data of American citizens.
To ease concerns, ByteDance recently appointed American ex-Disney streaming executive Kevin Mayer as the new CEO for TikTok, reports Business Insider.
A TikTok spokesperson told LADbible: "These are the facts: 100 million Americans come to TikTok for entertainment and connection, especially during the pandemic.
"We've hired nearly 1,000 people to our US team this year alone, and are proud to be hiring another 10,000 employees into great paying jobs across the US.
"Our $1 billion creator fund supports US creators who are building livelihoods from our platform."
Nonetheless, Trump appears determined to have the app removed from the US, telling reporters on Air Force One as he returned from Florida: "As far as TikTok is concerned, we're banning them from the United States."
He added: "Well, I have that authority. I can do it with an executive order or that [emergency economic powers]."