Pallbearers praised for handling of Queen's coffin while world was watching on
People watching the funeral of Queen Elizabeth II on television have singled out some of the unsung heroes for special praise – the lads who carried the incredibly heavy lead-lined coffin into the church.
It turns out that they're specially selected soldiers from the Queen's Company First Battalion Grenadier Guards.
In total there are 10 pallbearers, who carried the Queen's coffin, topped off with the diamond-encrusted crown and the Royal Standard flag.
The pallbearers are all former equerries to the Queen – meaning former members of the guard at the royal household – and will have been chosen by the Comptroller of the Lord Chamberlain's office.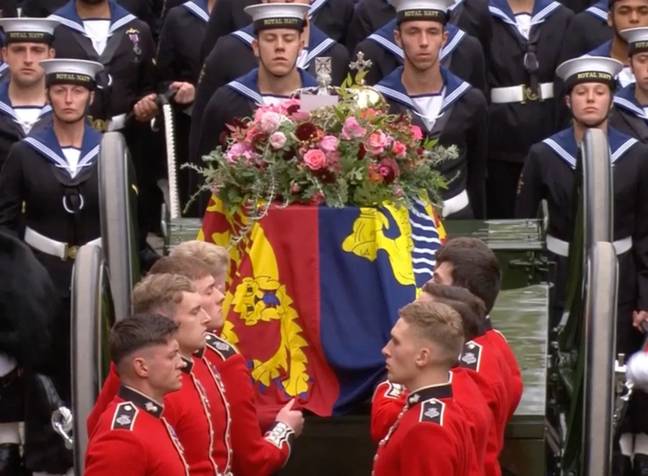 Whilst we don't know exactly who these chaps are, several other soldiers who have been involved in the lengthy procession around the country that the coffin has been on have spoken about their own experiences.
One soldier, Ben Tubuna from Fiji, said that he was 'humbled' to have been chosen to carry the coffin outside the Palace of Holyroodhouse and at St Giles' Cathedral in Edinburgh.
He said: "Two months ago, we were asked to volunteer to become pallbearers for the late Queen Elizabeth II funeral.
"It was solely based on performance. Me and another Fijian were selected to be part of the procession. Unfortunately, my fellow colleague could not participate."
Of those who were given the task today, many people have tweeted in praise.
One person said: "Fair play to the pallbearers who carried out their duties without fault under such pressure.
Another commented: "Couldn't pay me enough to be one of those Pallbearers - pressure be immense."
Fair play to the pallbearers, I believe that was a lead-lined coffin with all that extra weight on top.

— KingOfAnkh (@KingOfAnkh) September 19, 2022
A third wrote: "Pallbearers.
"Go and have a shot of whisky, you deserve it.
"That was incredibly emotional.
"Hats off to the pallbearers and choir who were just magnificent."
"I held it together until I saw the young Royals", wrote yet another.
The funeral is currently taking place at Westminster Abbey, presided over by the Dean of Westminster and the Archbishop of Canterbury.
Following that, the Queen's body will be taken to Windsor for a private burial alongside the Duke of Edinburgh, her late husband Prince Philip.
Before that, there will be a national minute of silence at 11.55am, before around 800 people will attend a committal service at 4.00pm in St George's Chapel in Windsor.
Then, her final burial service will take place in the King George VI Memorial Chapel, conducted by the Dean of Westminster.