Diner who doesn't even eat steak racks up enormous £7,000 bill at Salt Bae's restaurant
A diner who doesn't even eat steak was shocked to rack up a huge bill at Salt Bae's famous Nusr-Et steakhouse in Dubai, having vowed to check the prices a little more closely in future.
Find out what he ordered here:
But one customer was still stunned when the bill arrived, especially given that he doesn't even eat steak – unlucky, fella.
TikToker Mitch (@mitchthird) posted a video on the platform last year to show others his table's hefty receipt, which came to a whopping 31,475 Dirham (£7,051/$8,569).
This included one Golden Ottoman steak (£670/$816), two bottles of Bonnes Mares wine (£5,356/$6,528) and, um, one sliced avocado (£16/$20).
A message at the end of the cheque, which had been unnervingly circled, explained that service charge was not included.
The clip shows Salt Bae extravagantly serving up his signature gold-wrapped steak, before sprinkling it with salt by letting the crystals run down his forearm as the trademark move that punters are paying for.
After a quick shot of some pricey-looking wine being poured into his glass, Mitch then cut to the bill.
Mitch, 'who works as a business, mindset and manifestation coach', said: "When you pay $31k to eat Salt Bae but don't eat steak."
In the caption, he added: "Note to self: check red wine prices."
Mitch also shared the video again at the beginning of the year, clearly still stung by how much he had to fork out.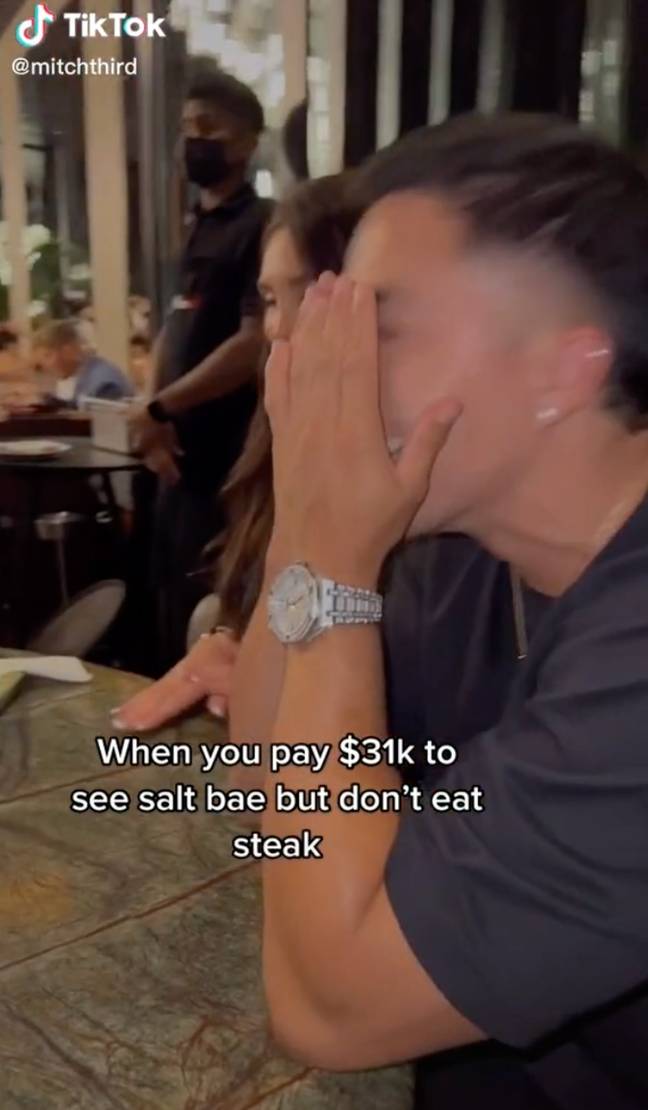 Naturally, many other TikTokers were equally as shocked by the prices, with one commenting: "I wouldn't pay for that even if I was rich."
Someone else said: "I would bring my own avocado and water? Really like it's made out of gold?"
A third wrote: "It's the 'service charge not included' circled for me."
A fourth joked that he 'could've just bought whole cows at that point', while another added: "Wait... What!! Nope nope nope. That's beyond crazy and definitely a waste of a lot of money. You know what I could have done with that amount."