Dan Bilzerian Won An Unbelievable Amount Of Money On The Mayweather-McGregor Fight
Floyd Mayweather and Conor McGregor are reported to have made $100 million (£77m) and $30m (£23m) respectively for their fight on Saturday night in Las Vegas. But they weren't the only ones who profited from the event.
Thousands of punters who stuck with the smart money of a Mayweather victory found themselves quids in following the match - and that included international playboy Dan Bilzerian.
As proven by this betting slip: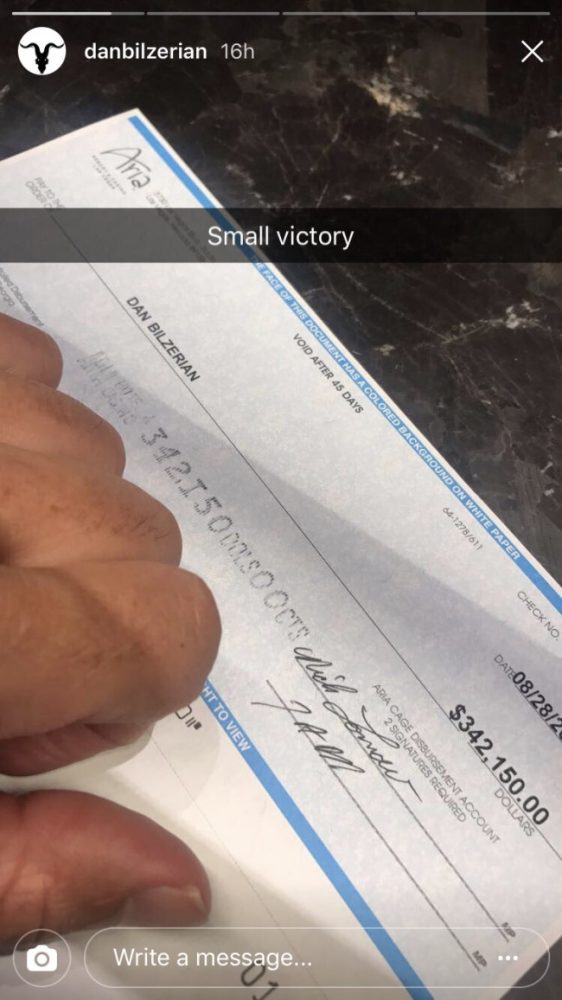 Money

Although it's not confirmed how much Bilzerian staked, he showed off a check on Snapchat from the Aria casino cage for winnings of $342,150 (£264, 788).
And it's probably no surprise he saw fit to congratulate 'Money' Mayweather in person following his win.
It seems everything's coming up Milhouse for the playboy at the moment - it was reported last month that he is now in his first monogamous relationship.
Square Mile magazine claim that Dan met the model at a pool party, but it wasn't a case of locking eyes from across the room and then going on a string of dates, like they do in soppy romcoms. Instead, it was more of an extreme American Pie-type meeting, as he reportedly slept with three other women that night before meeting Sofia.
"Yeah. Got a girlfriend. First time. Well, I had a girlfriend before, but I was still fucking other girls," he charmingly told Square Mile. "Wasn't exactly your storybook love at first sight.
"I think I fucked like three girls before her that day. We just started hanging out. She's just a little different, you know?
"She's smart, she's cool, and she likes a lot of the shit I like. So here we are."
And they say romance is dead.