Gareth Bale breaks silence on Ryan Reynolds' offer to come out of retirement to play for Wrexham
Gareth Bale appears to have given an answer as to whether he'll come out of retirement and give Wrexham FC one last season of football.
Widely regarded as the greatest ever Welsh footballer in history, Bale hung up his boots in January 2023 and has been enjoying spending more time with his family and on the golf course.
If he ever did want to make a comeback to football he wouldn't find himself short of offers, and Wrexham owners Ryan Reynolds and Rob McElhenney have asked if he'd consider joining them.
Bale was directly asked about the chances of his signing on for a season with Wrexham at the Sports Industry Awards in London by presenter Laura Woods, and his answer will likely disappoint Wrexham fans.
"No, I don't think so. I was more looking for a free round of golf off Rob," Bale said after being asked whether he could be tempted out of retirement for even just one more season.
He said: "I'm sure we'll have a chat and a joke but I'm quite happy where I am spending a lot of time with my kids and my wife, time that I've lost so much of over the years being committed to football.
"So yeah, just enjoying family life and playing some golf."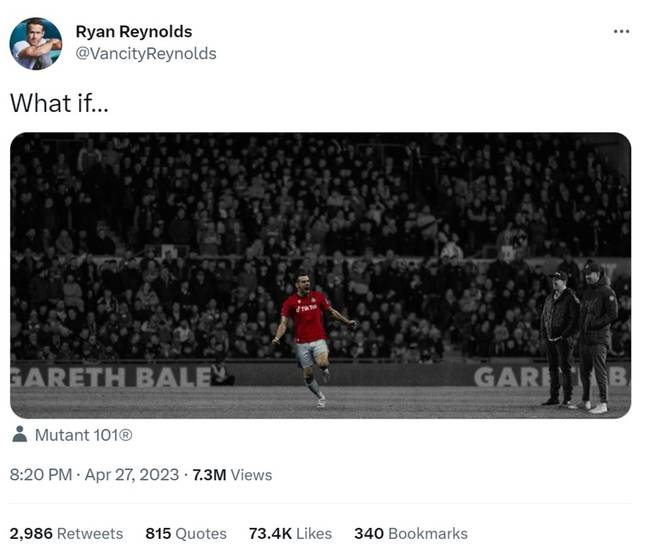 Some Wrexham fans haven't yet lost heart in the possibility that they could at least see Bale step onto a football pitch in a Wrexham shirt, even if it's not going to be for a full season.
It still seems a bit unlikely but if they didn't dream about what was possible and allow themselves to hope it might be even just a little bit true then they wouldn't be football fans.