Wrexham fans think they've worked out hidden meaning behind Ryan Reynolds' message to sign Gareth Bale
Wrexham fans are hoping they'll get to see Welsh football legend Gareth Bale join their club in some way after getting promoted to League Two.
Wrexham was last in the football league (the Championship, League One and League Two) 15 years ago when they got relegated from League Two and dropped down.
Now they're back up and the club's owners have got a high profile addition to the squad in mind, as though bringing Ben Foster into the team late in the season wasn't already star-studded enough.
Since securing promotion, Reynolds and McElhenney have been trying to convince Gareth Bale to join them and the prospect has been sending Wrexham fans doolally.
Bale announced his retirement from football in January but the Hollywood stars are hoping to coax him back for just one more go before he can skedaddle back to the golf course.
While that's surely a lovely offer to make, it seems as though Bale won't be taking the boys up on their offer to join Wrexham for their next season.
He was asked about the prospect at the Sports Industry Awards in London and said: "No, I don't think so."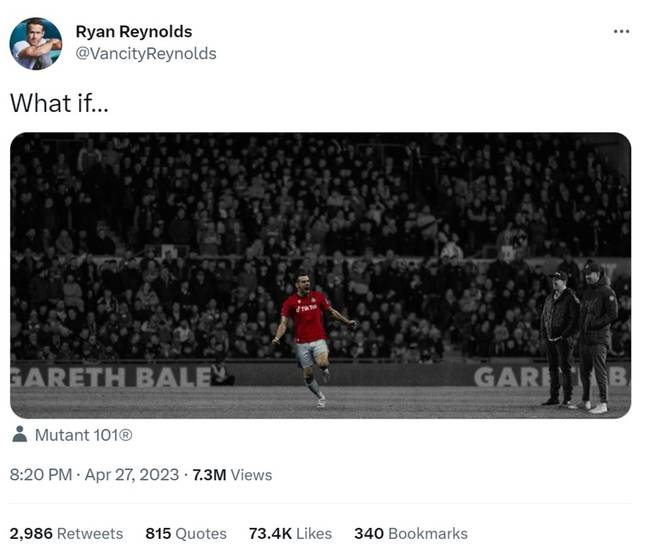 That would appear to sink the prospect of Bale coming out of retirement for a season with Wrexham, but some fans of the club think it's not quite over yet.
Reynolds shared a mocked up image of Bale in a Wrexham shirt captioned 'What if...' and some Wrexham fans think it's a sign that they will see him play for their club.
Most reckon it doesn't mean he'll be with them all the way through their first League Two campaign for 15 years, but some fans think he 'will appear in a Wrexham shirt in the tour of the US'.
The club will be heading across the pond in July for a few pre-season games and Wrexham fans reckon Bale might make a special guest appearance for those, saying he could be a 'signing for the US games'.
Other more optimistic fans thought there was 'always a chance he signs', so even though Bale has said he doesn't reckon it'll happen, just never say never.