Gareth Bale responds after Rob McElhenney wanted to get him out of retirement to join Wrexham FC
He was recently asked by Always Sunny in Philadelphia actor and Wrexham AFC owner Rob McElhenney about potentially coming out of retirement.
It was a sad day for many as Bale is considered to be 'one of the greatest players of his generation and one of the greatest Welsh players of all time'.
The Welsh football club, which is owned by McElhenney and Ryan Reynolds, beat Boreham Wood 3-1 last weekend and it has sparked a lot of interest.
Rob laid down the gauntlet for Bale by posting on Twitter: "Hey @GarethBale11 let's play golf, where I totally won't spend 4 hours trying to convince you to un-retire for one last magical season."
The post included a video of Bale congratulating the actor on their win and promotion.
Bale can be heard saying: "Hi Rob, just want to congratulate you on your promotion and everything you're doing at Wrexham."
While many thought he would never even respond to such a suggestion, it seems like we're all wrong.
Bale replied with 'Depends what course' while tagging The R&A.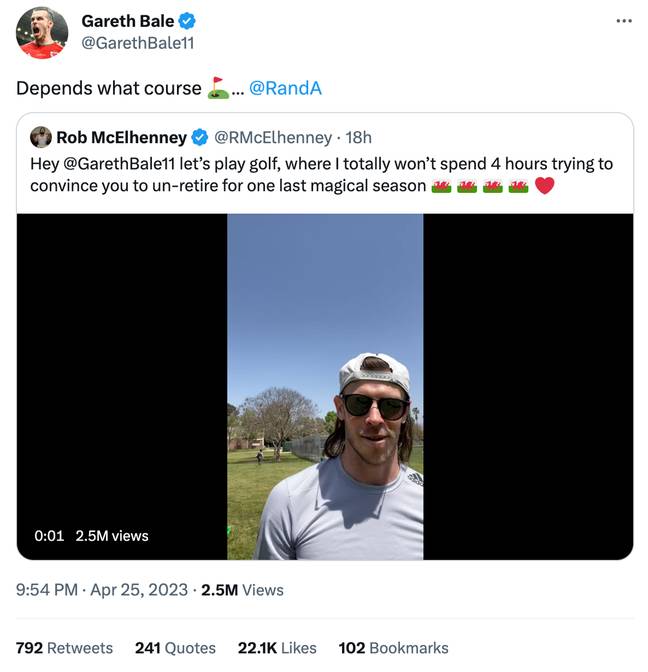 So, it's definitely not a no from the legendary Welsh player and people have gone wild.
One person wrote: "This would be unreal."
Another added: "Gareth, don't tease me like this."
A third said: "This would just be another string in your legendary status and be a truly great way to thank North Wales based fans who travelled all over the world to support you with Wales, even home games were logistical nightmares."
They might need to sort through their finances if they want to sign Gareth Bale.
They've invested an incredible £10 million during their takeover of the club.
This even included buying back Wrexham's beloved grounds: Racecourse Ground stadium.
Having been sold off over a decade ago to Wrexham Glyndwr University, it cost the comic duo a staggering £3.67 million – according to the club's accounts in June 2022.
Reynolds and McElhenney have also recently unveiled ambitious plans to redevelop the ageing site as Wrexham FC's popularity soars.