Woman came close to death after flesh-eating bug ate away half of her stomach
A woman was given just hours to live after she contracted sepsis and a flesh eating bug inside her stomach.
Amy Hiner, 40, had undergone a C-section to deliver her second child Evie, but in the days after the birth, she started suffering from a burning fever and agonising stomach pains.
Doctors then discovered that the mum had a Strep A infection caused by 'retained products' in her womb after the C-section.
'Retained products' usually refers to placental or fetal tissue that weren't removed from the uterus after birth or a miscarriage.
The Strep A had developed into sepsis, and then the flesh-eating bug known as necrotising fasciitis, she said.
Even though she was rushed to surgery to have the 'retained products' taken out and the infected flesh removed, her condition kept getting worse.
The mum of two said that the feeling was like 'piranhas in [her] tummy', and black patches kept developing on her skin.
"The pain was so excruciating, like someone pouring battery acid in an open wound, even morphine didn't touch it," she recalled.
"I didn't think I could go on. My whole life flashed before me. I just looked at my baby and knew she might never remember me.
"A few times in theatre they nearly lost me. At one point I had an out-of-body experience."
Given just hours to live, Amy had to go back under the knife for an emergency procedure, with surgeons cutting inches deep from her belly button to her bikini line in a desperate bid to save her life.
She was left with a gaping hole in her tummy, which was later packed with bandages, and a little pump put in to take out fluid and dead tissue.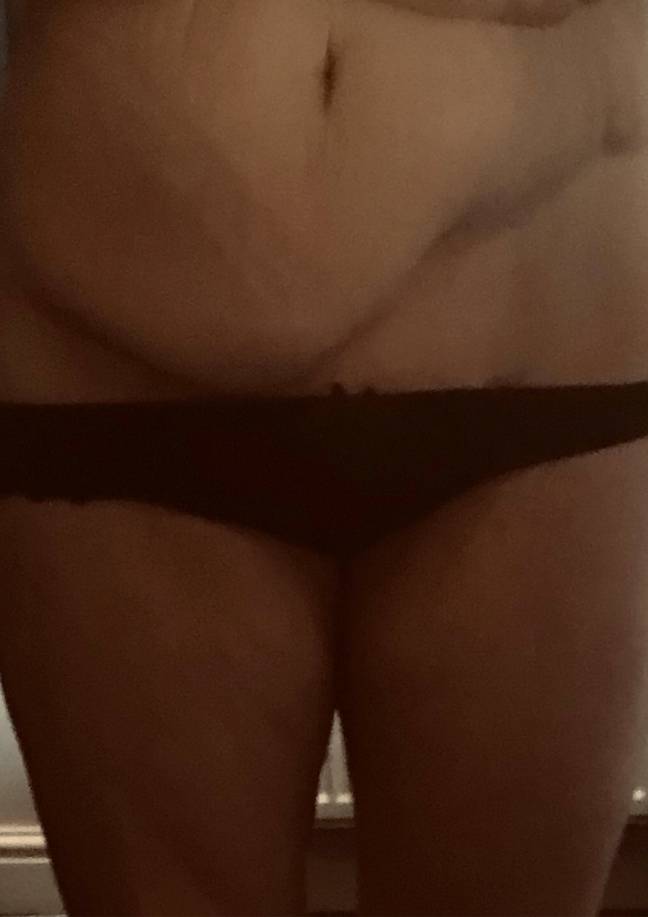 Thankfully, the operation was a total success, but Amy was still left with a lot of trauma after the whole ordeal.
"It was awful and I couldn't even hold my baby," she said. "I was so broken. It took all my energy just to breathe. I had to learn to walk again.
"When I tried to stand it was like my legs were having to support a lorry. I didn't think I'd be able to do anything ever again. I cried and cried. I was heartbroken.
"It's very rare to survive the deadly bug, and more rare to still have all my limbs, so in some ways I'm very lucky."
It took almost a full year for Amy's stomach wound to heal, but she also suffered night tremors and panic attacks and was eventually diagnosed by PTSD and post-sepsis syndrome.
"I've been left horribly disfigured, with my belly slanting and scarred. It needs a full tummy tuck," she claimed.
"And because of severed nerves, I feel like I'm being electrocuted if I lie on my right side.
"But my mental health was the hardest part. I hated myself. I couldn't look in the mirror or shower without crying.
"But I survived against all the odds and I've turned my life around. Now I'm happy and earning more for myself than I ever did working for someone else."
When Amy did finally bounce back, she decided to follow her dream of becoming an ice cream lady, buying herself a van in July 2021 with the settlement she won from the hospital.
"I realised you can lose everything in a heartbeat, and that gave me the push to follow my dreams.
"I wanted to own an ice cream van when I was little, but it felt like too much of a risk, so after everything I'd been through I thought I'd just go for it."
Featured Image Credit: SWNS
Topics: Health