April Pearson admits getting naked on Skins set made her feel 'uncomfortable' and she's still 'dealing with it'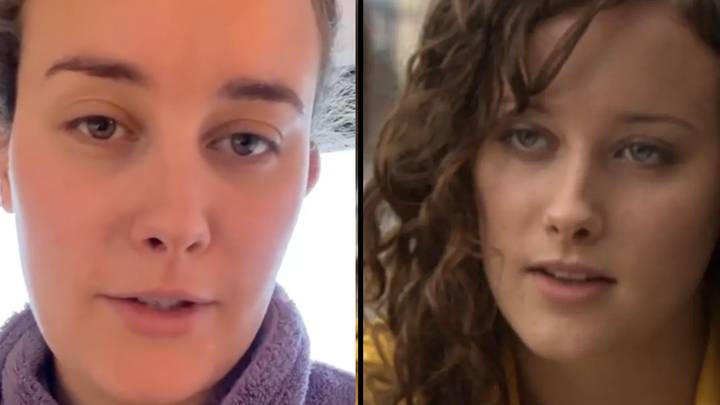 April Pearson has admitted getting naked on the set of Skins made her uncomfortable, and she said she's still dealing with it to this day.
The actor was cast in the hit drama as a teen, and unsurprisingly, shooting her sex scenes was an unpleasant experience.
On the series, which ran from 2007 to 2013, Pearson played Michelle Richardson, Tony Stonem's (Nicholas Hoult) on-off girlfriend.
Asked whether she actually had to get naked on the show, and whether it made her uncomfortable, the 33-year-old said on TikTok: "Yes, and yes.
"It was very weird, and not all the time pleasant... still dealing with it."
Almost two decades after the show wrapped, Pearson has been opening up about her time on the show, which she described as a 'f***ed up experience'.
Speaking about her sex scenes on the show, on her podcast Are You Michelle From Skins?, she said: "At the time you're young and you don't know any better.
"You don't really know what to say, to speak out, is this okay...
"And as with a lot of victims of trauma, you look back at it and think: 'Yeah, that was f***ed up.'"
She continued: "There's a difference between being officially old enough and mentally old enough.
"I was having this conversation with my husband and I was saying I do feel like I was too young, I feel like I wasn't protected."
Indeed, things have come a long way in a short time in the entertainment industry, and she said things would be done differently if the show was made today.
"We're talking seven series of the same show and everyone feeling the same, certainly the women and some of the men I have spoken to feel the same," Pearson claimed.
"Nowadays you have an intimacy co-ordinator as a standard for nude, intimate scenes and that just simply wasn't a thing."
In another episode of her podcast - in which she spoke to her former co-star Siwan Morris, who played school teacher Angie on the show - she reflected on one scene in particular which seemed a bit weird looking back.
"So, like, I'd thrown up on you and then as a teacher, we'd both gone in the shower together," she recalled.
"You got me out of the shower and put me in gym kit, which just happened to be short and tight.
"It's all a bit like 'ooh, do we need it?' Could we not have had, like, a boy's cricket kit to put on?"
LADbible has contacted Channel 4 for comment.
Featured Image Credit: @apriljpearson / TikTok / E4
Topics: TV and Film