An adorable dog has gone viral after his owner posted a picture of him appearing 'decapitated' thanks to a strange optical illusion.
I should immediately point out that no picture of an actual decapitated dog would be adorable, but the fact this pooch still very much has his head attached to his body makes the initially startling image a lot easier to enjoy.
It was shared online by Reddit user Nathan Sievers, from Baltimore, who explained the scene came together by chance when his dog, a two-year-old husky and golden retriever mix called Bleuregard Q. Kazoo - I know, incredible - lay down with his head on the curb.
Thanks to the raised level of the curb and the angle of the camera, it's impossible to see Bleuregard Q. Kazoo's body beneath his head.
As a result, it appears as if the pooch is in fact magical and simply made up of a floating head, or, as Sievers pointed out on Reddit, 'like he's been decapitated'.
The image quickly gained a lot of attention from baffled, Reddit-using dog lovers, and has received hundreds of comments and thousands of upvotes on the platform.
Some Reddit users implored Sievers to share another image of the dog to ensure he really is all in one piece, with one writing: "I'm gonna need another pic of him to verify this."
Another joked that the dog's head actually belonged on the body of a human who could be seen to the left of the photo.
They wrote: "He is decaptitated [sic]. His body is wearing a green shirt, left side of the photo."
Others simply struggled to make heads or tails (sorry) of the image, with one commenter responding, "I can't wrap my head around this one! Beautiful head, though."
After the image blew up, Sievers told Newsweek the picture was 'honestly a fluke'.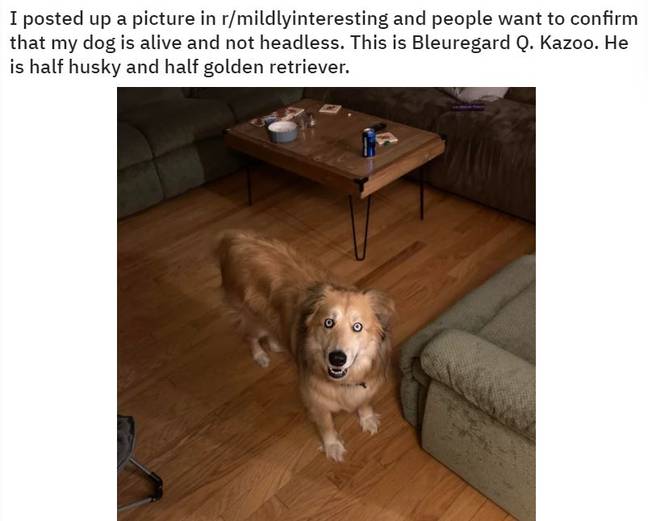 He said: "We were hanging out at my friend's brewery and he was laying down on a concrete platform that has a ramp going downward.
"He rested his head on the ledge and laid down so when I took the picture all you could see what his head floating there."
Nathan admitted he 'didn't even think much of' the image until he got back home later and 'realised how wild it looked'.
To assure internet users that the dog is okay, Sievers has since shared another image of the dog's whole body to the Reddit thread r/lookatmydog, for anyone who 'wants to confirm'.