Paralympian Jonathan Broom-Edwards admitted he thought he was 'going to die' during a brutal SAS: Who Dares Wins challenge, as the celebrity version of the reality series kicks off tonight (Sunday 4 September). Watch a clip from the show here:
Broom-Edwards, who won gold in the high jump at the 2020 Paralympic Games, is one of several famous faces taking on the gruelling Special Air Services course led by Chief Instructor Rudy Reyes and Jason 'Foxy' Fox, Mark 'Billy' Billingham and Remi Adeleke.
But even being one of Britain's top athletes couldn't prepare him for the harrowing tasks that the show has become known for, with the star revealing how the notorious 'gassing' challenge left him fearing for his life.
In tonight's episode, we see the contestants enter a room and remove their masks, only to be exposed to horrific gases as they attempt to escape.
Speaking to the Metro and other press about the challenge, Broom-Edwards said it was by far the most difficult task.
He said: "The hardest thing, the thing that gave me the most panic, and I felt like I was going to die, was the gassing.
"I didn't realise how bad that would be. And it's definitely the ugliest I think I've ever looked in my life. You just don't know how you're going to fare."
Other celebrities featuring in the new series also include actors Maisie Smith and Jennifer Ellison, TV stars Calum Best, Pete Wicks, Amber Gill and Ferne McCann, javelin Olympic gold medalist Fatima Whitbread, ex-footballer Ashley Cain, professional dancers and brothers Curtis and AJ Pritchard, Olympic sprinter Dwain Chambers, taekwondo Olympic gold medallist Jade Jones and professional boxer Shannon Courtenay.
And it seems like many of them also suffered in the gassing challenge, with Courtenay explaining: "The worst thing is they say to you don't touch your face or rub your eyes or put water on your face, but I immediately did all three, I rubbed my eyes and was sick everywhere, so it wasn't a great day for me."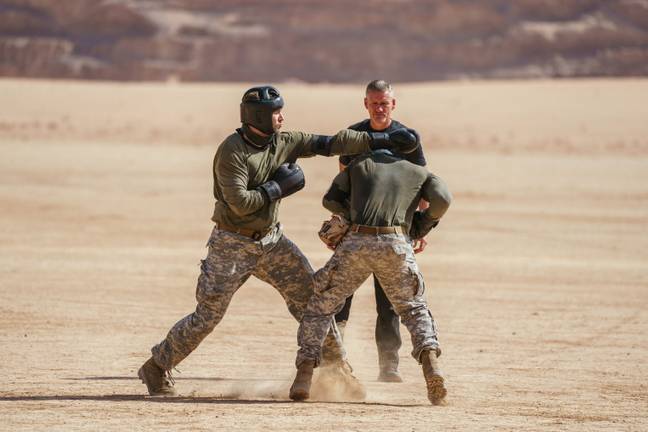 However, Whitbread seemed to take it in her stride – calmly telling the directing staff afterwards that she had simply expected it to be difficult.
Speaking in the mirror room, she told Billy and Foxy: "Yeah it's hard, I didn't expect it not to be, but you dig deep and see what you've got."
Watch Celebrity SAS: Who Dares Wins returns on Channel 4 at 9pm tonight.