Margot Robbie left close to tears after David Blaine told her what she was looking at on her phone
Margot Robbie was left close to tears after David Blaine's incredible magic trick.
The illusionist, endurance artist, and extreme performer is known for his hair-raising stunts and for leaving people confused.
If you ever find yourself on one of Blaine's shows, chances are you're going to leave feeling amazed and a little bit creeped out, which seemed to be the case for Robbie.
The Barbie actress appeared in Blaine's 2016 ABC special Beyond Magic, which also featured a whole host of famous names including David and Victoria Beckham and Johnny Depp.
The trick starts with Blaine asking the Oscar-nominated actress to think of anything in her mind, but without saying it out loud. The word was personal to the Australian star and for Blaine, guessing the world was easy peasy.
The word relates to a memory when Robbie was five-years-old and after Blaine brings this up, she chokes up and says: "I'm gonna cry."
He takes the hand of Robbie's friend - who has an inkling about what the special memory could be - and proceeds to write the word 'bunny' on her palm with a pen that may or may not be a sharpie.
That's gonna leave a mark.
Anyway, the room is in silence as Blaine writes the word, but Robbie and her friend can't help but to awkwardly chuckle as they wait to see what Blaine has up his sleeve.
When the big reveal happens, the two friends are absolutely flabbergasted. "That's not only weird, that's really embarrassing as well," Robbie declares, as the pair laugh.
"How the f–k did you know that?" the friend asks, but Blaine obviously doesn't spill anything.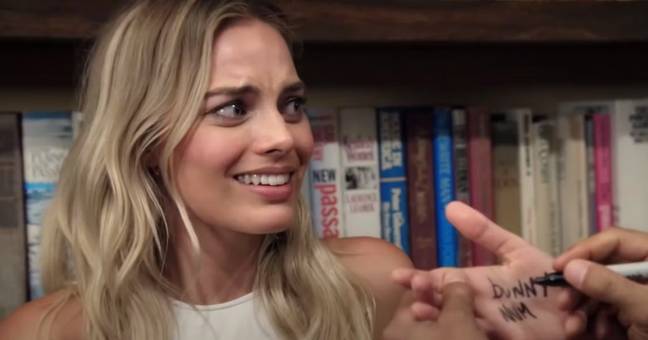 He does, however, pick up on another word in Robbie's mind and takes pen to palm and writes the word 'numerous' on the friend's hand which was the correct answer.
The clip of Blaine's magic trick has gone viral on social media and people are flabbergasted.
"How the hell does he do this!?!" one person quizzed.
"Incredible," another TikTok user wrote.
"This guy is a truly magician!" a third penned.
While a fourth shared: "He is amazing."