Fawlty Towers reboot in the works over 40 years after final series ended
Fawlty Towers is set for a reboot over 40 years after the final series aired and we are very excited.
The iconic TV show is right up there with the greatest British sitcoms of all time, yet it actually only ran for two seasons - from 1975 to 1979 - with six episodes per season.
The comedy followed the hectic life of hotel owner Basil Fawlty (John Cleese), a man with a dislike for almost all of his guests.
Cleese wrote and starred in the original BBC Two series and has confirmed that he will reprise his beloved role.
However, this time, he will be joined by his real-life daughter Camilla Cleese, 39, an actor and comedian who is based out of LA.
Actor Rob Reiner and producer Matthew George, who currently run American production company Castle Rock Entertainment, are said to be backing the new project.
The 83-year-old claims that the new script is 'excellent'.
"When we first met, he offered an excellent first idea, and then Matt, my daughter Camilla, and I had one of the best creative sessions I can remember," Cleese said.
"By dessert we had an overall concept so good that, a few days later, it won the approval of Rob and Michele Reiner.
"Camilla and I look forward enormously to expanding it into a series."
"John Cleese is a comedy legend. Just the idea of working with him makes me laugh," Reiner said.
George added: "Meeting John and Camilla was one of the great thrills of my life.
"I'm obsessed with Fawlty Towers and the legendary characters he created.
"I've watched the first two seasons so many times I have lost count.
"I dreamed of one day being involved in a continuation of the story.
There is currently no release date set for the new reboot.
Characters from the original cast include the likes of Andrew Sachs who plays the role as Spanish waiter Manuel, while Cleese's bossy wife Sybil is played by Prunella Scales.
Let's not forget chambermaid Polly who was played by Connie Booth, who wrote the show alongside Cleese.
Fans of the show may remember one episode which was removed from UKTV a couple of years ago for containing 'racial slurs'.
The episode, titled 'The Germans', is often remembered for the recurring line 'don't mention the war', which is said throughout.
One scene also involves hotel owner Basil Fawlty (Cleese) having a discussion with hotel guest Major Gowen, which results in racial slurs concerning West Indians.
But it's actually another scene altogether that Cleese regrets the most, as he feels he didn't get it 'right' when filming and should have tried another take.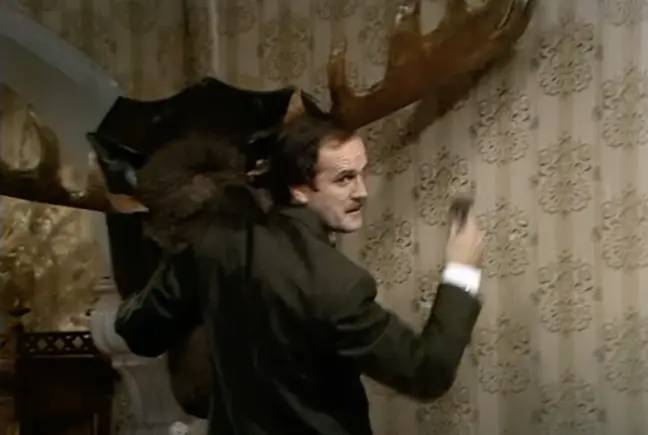 In the scene, we see Basil trying to hang a moose head on the wall at the hotel, while colleague Polly (Booth) is on the phone at the front desk.
Speaking on The One Show in 2021, he said: "There is a moment when the moose head falls on me and I would have retaken it, because if you watch carefully, I am waiting for it to fall on me because it didn't fall on cue, it was late.
"I'm very sorry we didn't go back to do that so every time I watch that sequence I go, 'Oh dear I wish we got that right'."