Jeremy Clarkson Under Fire For Photo Of Co-Star In Tractor's Weight Box
Farming safety groups have expressed outrage after Jeremy Clarkson posted a picture of co-star Kaleb Cooper in a tractor weight box to promote the new series of Clarkson's Farm.
The stunt was branded 'highly disappointing' due to a number of injuries and deaths that have occurred within the industry.
From 31 March 2020 to 1 April 2021, 41 people died in the agriculture industry in the UK, with agriculture having the worst worker fatal injury rate than all the other main sectors.
The photo in question features Clarkson at the wheel of his Lamborghini tractor with Cooper lying in the weight box, which was posted by Amazon Prime to plug the upcoming series.
Agricultural safety groups shared their disappointment as they pleaded with Clarkson to use his influence to encourage more responsible behaviour with farming machinery.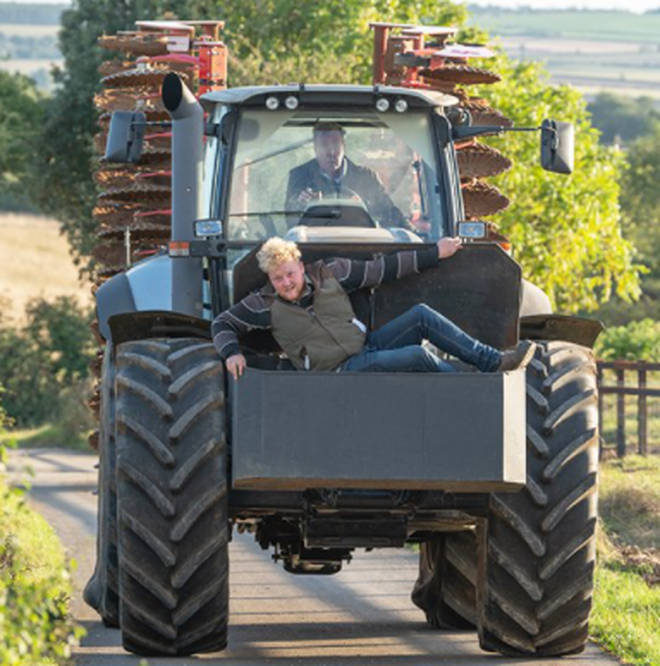 Manager of Farm Safety Foundation Stephanie Berkeley told Farmers Weekly: "This programme could be a great way to help improve this, so it is a pity that they chose to use this photo displaying such poor safety behaviour.
"Agriculture continues to have the poorest safety record of any occupation in the UK and we are working hard to change that."
Farm safety consultant at the Institute of Occupational Safety and Health Elizabeth Creed agreed the stunt was 'highly disappointing'.
She said: "It is frustrating that the team at Clarkson's Farm did not recognise that their platform has a huge potential for influencing and encouraging a positive safety culture in farming."
Creed added there were 12,000 farm workers injured in just the past year, highlighting that the industry needs to 'change'.
A spokesman for the production team behind the show said: "As our first series showed, Jeremy has great respect for the farming community.
"The programme is not a 'how to guide' for farmers, who already know far more than he does about farming."
Despite the controversy, Clarkson and his farming clan will be back on our screens soon for the highly-anticipated second series.
In a slightly less contentious image, Clarkson is pictured kissing girlfriend Lisa Hogan as Cooper awkwardly stands next to them, averting his gaze.
The presenter, who purchased Diddly Squat Farm back in 2008, has enjoyed great success from the show, which tackles the highs and lows of farm work for an unlikely beginner.
The first series was so successful that fans spent hours queuing outside his farm shop in Chipping Norton, Oxfordshire.
Clarkson recently revealed he was 'the happiest he has ever been' and that he 'loved every second' of filming the new hit show.