Thor: Love And Thunder Becomes One Of The Worst Ranked Marvel Movies Ever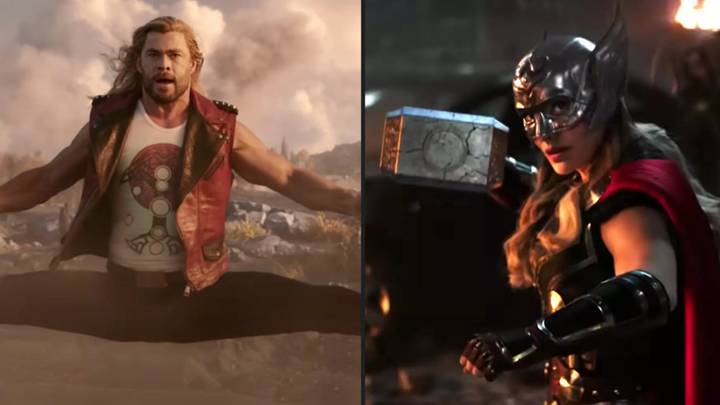 Rotten Tomatoes, which derives its rating score based on an amalgamation of other reviews of the film, has given the latest Thor flick 71 per cent.
That's based off 139 reviews of people from around the world who have been lucky enough to see it early.
While 71 per cent isn't thaaaat bad, it's not great when you compare it to other movies in the MCU.
Given that Marvel has been responsible for some of the most epic cinematic moments over the past decade and a half, Love and Thunder's rating is definitely underwhelming.
Thor: Love and Thunder scored just ahead of The Incredible Hulk, which received 67 per cent, followed by Thor: The Dark World, which earned 66 per cent.
However, sitting at the bottom of the ladder is Eternals, which scored 47 per cent. Ouch.
Shockingly the Sydney Morning Herald gave the film two stars, citing the film's cheesy backdrops, 'laboriously' obvious subtext and lukewarm jokes.
Movie reviewer for the outlet Jake Wilson writes: "The problem lies in the intermittent efforts to get serious about matters of life and death."
He adds: "The Thor of Love and Thunder may have shed the extra kilos he packed on in Avengers: Endgame but, even minus the dad bod, he still merits endless ribbing for his dadlike self-importance."
Erik Childress from the Move Madness Podcast added: "Did not think it was possible to make a worse Thor film than The Dark World, but Taika Waititi appears to have pulled it off. Love and Thunder now ranks as the low point in the MCU."
However, The Direct reports that according to test audiences, the film has one of the best villains of all time.
Director Taika Waititi revealed that Gorr the God Butcher, played by Christian Bale, has 'tested the highest' with audiences privy to an early screening, adding that he is 'most sympathetic' villain in the Marvel Cinematic Universe (MCU).
Hemsworth shared that Bale brings a 'complexity' to the bone-chilling character, noting that the 48-year-old actor was able to flesh out Gorr from the comic books, according to Movieweb.
When asked what we can expect, Hemsworth replied: "Exactly what you'd want, hope and expect. Nuance, complexity, depth. A sort of quirkiness to it which I didn't see on the page and with any sort of classic villain.
"The fact that you find yourself empathising, or asking questions that they're asking, or the ideas that they're posing. It's not just stock standards sort of evil."
Despite the disappointing reviews rolling in, we must admit that trailers teasing Bale's transformation as the supervillain is incredible and definitely one we have to see.