Dana White shows off fasting body transformation after being warned he had '10.4 years to live'
Dana White not only runs the UFC, he now looks like he could compete in it.
Earlier today (16 November) the UFC boss took to social media to display his shredded physique in a two-minute-long clip, all whilst telling his followers that a life expectancy expert told him last year he only had just over a decade to live.
After undergoing a number of tests conducted by human biologist and bio hacker Gary Brecka, White was given the worrying diagnosis, which prompted him to take some serious measures in order to get his life back on track.
As well as big diet changes, White has done supervised fasting, with the most recent one being a '86-hour water fast'.
"Obviously, I'm not a doctor, but I've been told by the experts that water fasting can help to significantly reduce the risks of cancer, alzheimers, and a ton of other health issues," the fight enthusiast wrote in his caption.
"Do your own research and talk to your own medical professionals but, I absolutely recommend it."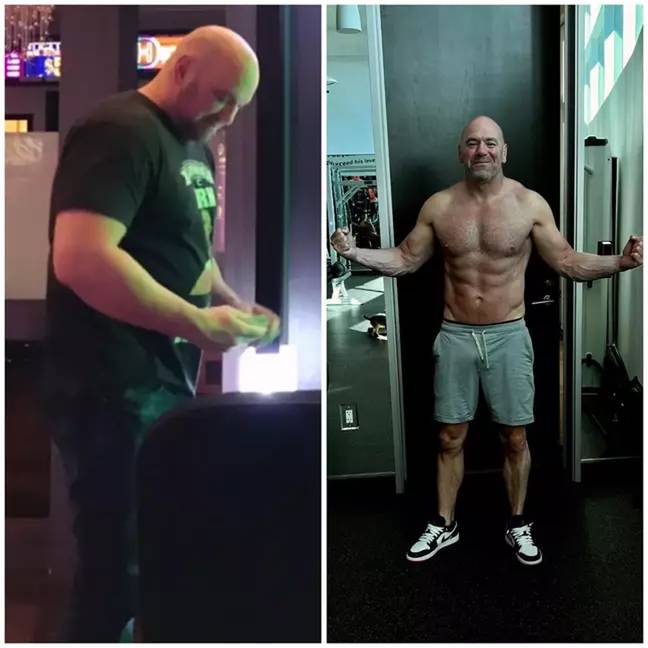 "So, the first 24 hours, you drink water, and you can use that [electrolytes] in your water," he explained.
"Then, the next day, this is the cleanest broth that you can buy. This thing only has 45 calories, less than one gram of carbs, and it has like 13 grams of protein.
"So, all it really has is protein and 45 calories. That is the cleanest broth out available; chefs will tell you that. It's Gary Brecka-approved.
"You can pick this up anywhere.
"You do this twice a day for the next two days. You drink all your water with electrolytes, but you could do the broth twice a day, bone broth - the bone broth, twice a day for the next two days. You're gonna feel incredible. And obviously, you're doing it for the internal, but externally, you get absolutely shredded on this thing."
Another medical professional has since spoke about White's life expectancy and what you can do to add years back onto your life.
Dr David Abbasi MD - who is double board certified in orthopaedic surgery and sports medicine, as well as a ringside physician for professional UFC/ MMA and boxing events - went on YouTube to explain the process behind the DNA testing White underwent.
The doctor said: "What they're looking at is the blood in the DNA. So our DNA is basically a repeated unit of basic building blocks.
"And all of our DNA sits within these chromosomes. [...] When we're born they're a certain length, and as we continue to age, because all of our cells continue to divide, they actually get shorter and shorter and shorter because the ends of the chromosomes start to shorten. The ends of the chromosomes have these structures called telomeres.
"So telomeres will actually shorten as we get older and what scientists have stared to notice was people are getting older in age, the telomeres are shorter and people closer to death have much shorter telomeres than people that are more youthful, [...] or healthier. So they can look at the comparison [...] and basically start to predict when someone is going to die or how old they are."
And if you're not into all this science talk, the pictures of Dana White's transformation should be evidence enough!