People vow to never buy disposable vapes again after seeing how they're really made
People have now been completely put off vaping after seeing how they are made.
But, thanks to the internet, one video has shown exactly how vapes are really made, which lead to bunch of people vowing that they'll never use a disposable vape again.
Now, there's obviously a lot of controversy around at the minute regarding the disposable vape pens, as well as a wider conversation about vaping in general.
As it stands, the NHS is still recommending e-cigarettes as a smoking cessation method for adults, but there are still growing concerns over the damage they cause.
Strangely enough, none of those concerns seem to have been what has annoyed people about this video, in which a load of disposable vape pens are made up in a factory.
Nope, it's all about one particular part of how they get made.
In the video, we see the computer aided design of the vape label and packaging before the wiring gets done in bulk, and the electrical testing is performed.
Then, a production line is seen assembling the products and getting them into their casings, before someone applies the mouthpiece to the top.
This – out of the whole process – is what has people swearing off them for good.
It's the fact that the person who applies the mouthpiece isn't wearing gloves.
OK, it's a legitimate concern, but is it the biggest?
Well, it seems to be for some.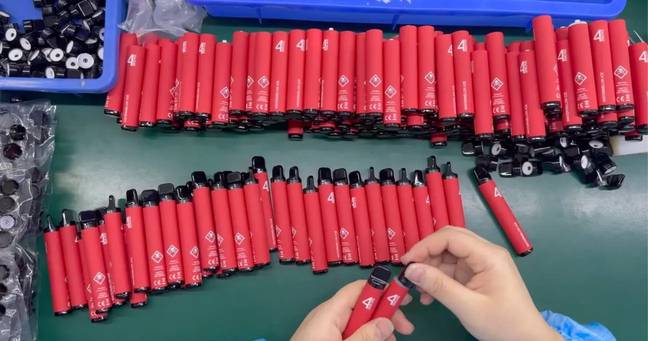 Underneath the video, one person commented: "You are telling me that they are touching the tips of the vape without any glove on??
"Didn't they know that their hands release grease constantly soo imagine while working?
"Bruuuh i would not buy these lol I ain't looking to have a stranger finger print on my vape tips when i buy it."
It's obviously not the most well-constructed comment, but we get what they're talking about, right?
Another person wrote: "Well, that doesn't look very appetising, how they attach the mouthpieces without gloves, see 0:28.
"That was definitely the last one I bought after seeing that. (gag)"
Others have commented on the amount of plastic going into it, with one writing: "What a wasteful product."
However, the award for the worst take of the whole comments section goes to one person who said: "I will stick to tobacco thx."
Yeah, that's not a great idea, either.