Party island two hours from the UK has some of the cheapest pints in Europe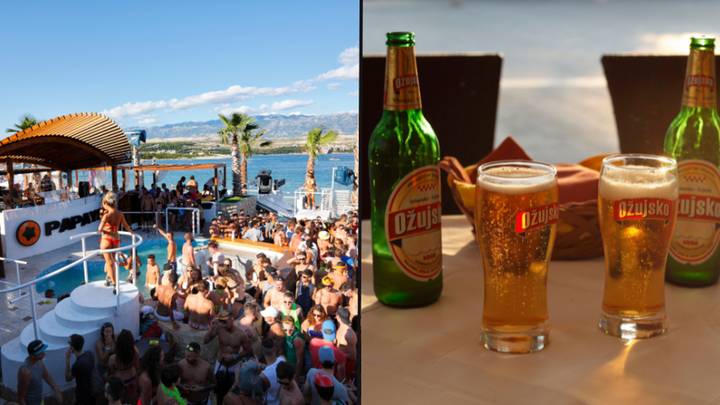 A party island just under two-hours from the the UK offers some of the cheapest pints in the whole of Europe.
For any Brits after some bargain boozing this summer, look no further than Europe's secret party town that puts the festivities of Ibiza, Zante and - dare we say - Shag-aluf to shame.
The holiday fun will most definitely be flowing on this island filled to the brim with open-air clubs, beach parties, buzzing bars and some frosty golden pints to wash it all down priced at a total steal.
Brits have acquired a bit of a reputation when it comes to travelling abroad.
From chanting 'Sweet Caroline' in the middle of a heaving club strip and somehow locating a kebab in even the most remote of places to looking like boiled lobsters after one too many hours asleep in the sun and drunkenly getting dodgy tattoos - it's clear that holiday-goers hailing from the UK can be spotted a mile away.
Young party-heads flock to a handful of tried-and-tested locations known to provide them with a good time.
Whether that's Benidorm in Spain or Sunny Beach in Bulgaria - many people seem to gravitate to certain destinations for a few reasons: they're fun, cheap and jam-packed with fellow Brits looking to make (and then forget) some memories.
And there's a brand-new party town on the map.
The gorgeous scenic spot is located in Croatia - and it's not Split, home of the Ultra Europe festival, or Dubrovnik, which sports one of the most legendary club spots in the country.
The new hotspot is Pag Island which offers bevs for as little as £1.11 a pop - not bad considering the cozzie livs we're currently plagued by.
Offering the best of both worlds, people can party hard all night and then sleep off their hangovers all day on the huge selection of beautiful scenic beaches.
For those wanting to get their groove on in their swimsuit under the scorching sun with a cheap as chips drink in their hand - then look no further than the island's Zrce Beach in Novalka which boasts a whole load of beach clubs.
One of which is veteran venue, Kalypso, which has been providing pints, parties and pumping tunes for almost 20 years now.
A handful of popular music festivals are also hosted on Pag Island, including the likes of Hideout, Fresh Island Festival, Sonos Festival and Barrakud.
Sound like your cup of tea - or pint of lager?
Well, you'll be happy to know that you can bag return flights to and from Pag Island's nearest airport, Zadar, for just £57 on Skyscanner.
Just two hours away and a little under £30 each way - it's a wonder why more Brits haven't caught on and hopped aboard to check out the party town.
And you don't need to worry about any extortionate accommodation prices either given that one hotel offers tourists a double room in Novalja from just £25 a night between two people on booking.com.
That's just over a tenner per person per night.
Equally, if you're after an all-inclusive package deal to make the whole booking procedure that one step more simple then grab an apartment right by the beach with flights included from just £322 for three nights via Last Minute.
Just two hours away by plane and pints priced at just over a quid - it's just a matter of time before Pag Island becomes the new party outpost for Brits abroad.
Featured Image Credit: Nino Marcutti / imageBROKER / Alamy Stock Photo
Topics: Travel, Food And Drink