Who Wants To Be A Millionaire contestant accidentally speaks before she thinks and loses winnings
Sometimes we forget to think before we speak.
However, one woman who featured on the US version of Who Wants To Be A Millionaire? seriously picked the wrong time to do it.
Vassiliki Yiannoulis was a contestant on Season 2 of the syndicated version of the show back in February 2004.
After breezing through the first six, she was tasked with answering the following question: "Denny's restaurants offer a signature breakfast dish named after what sports term?"
For those unaware, Denny's is a huge food chain in the US with over 1,700 restaurants world-wide.
Very quick to answer, she selected A: Slam Dunk as her 'final answer'.
As soon as the words came out of her mouth, she instantly realised her error.
She was meant to say D: Grand Slam.
"Oh, I was meant Grand Slam, D," Vassiliki said.
"I'm so sorry you said that," replied the host Meredith Vieira.
"I'm sorry it was Grand Slam."
The look of regret on Vassiliki's face was there for all to see as she puts her hands on her head, full of frustration.
The contestant failed to answer the $4,000 question correctly and instead, walked away with $1,000.
You've got to feel for her there.
Toby Moore - a statistician from Tulsa, Oklahoma - featured as a contestant on the US primetime version of the show in November 1999.
Having already answered 13 questions in a row correctly, Toby was sitting comfortable with $250,000 in the bank.
Now, with a possible $500,000 on the line, Toby was tasked with answering the following question, about Pokemon.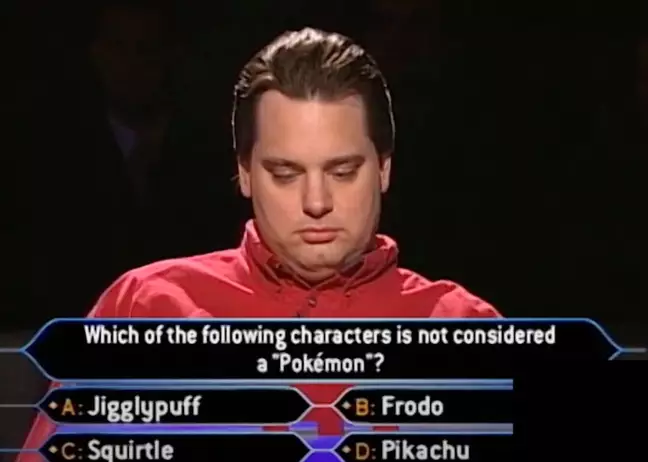 Toby was stuck. Credit: ABC
Which of the following characters is not considered a 'Pokemon'?
Deciding to use a '50:50 lifeline', Toby was down to two options:
After minutes of deliberation, Toby decided to call off his bets and take home the $250,000.
It seems that the contestant had never watched an episode of Pokemon, or read 1937 classic, 'The Hobbit'.
The Frodo we all know and love today perhaps was not as well known in 1999.
Incase you haven't already figured it out, the answer is B: Frodo.
Years later, this moment is considered a classic in US primetime history and some viewers still think it's 'one of the easiest questions ever'.
"This is one of the easiest f**king answers to a $500k question I've ever seen," commented one viewer.
"Either this guy never had a childhood or has kids who played this.
"It's insane; this is so freaking easy. This is a $500 question. What's crazy is that Regis Philbin was like, 'Omg, fine,' at the end, because he knew it was such an easy answer that he didn't do it."
Another added: "Are you serious? This is like a $1,000 question. Or have your kid as a phone a friend."