World's Longest Direct Flight Time Will See People Go From London To Perth
Struth mate! From March 2018 you can get from London to Perth in just 17 hours on a direct flight. That's Perth, Australia, and not Perth, Scotland, otherwise this story would be pretty shite and probably relate to our rail networks.
Which airline is offering this exceptional service, I hear you hark? Qantas. The Boeing 787-9 Dreamliners, which can take up to 236 passengers, will be the longest-ever direct flight with an average 17-hour flight time, hitting 9,009 miles (14,498) kilometres. As well as being the longest flight in regards to journey time, it will be the second furthest in distance, too. Air India currently holds this record on a non-stop flight with a 15,126 kilometres (9,400 mile) trek from Delhi to San Francisco which takes advantage of jet streams and can get there in under 15 hours!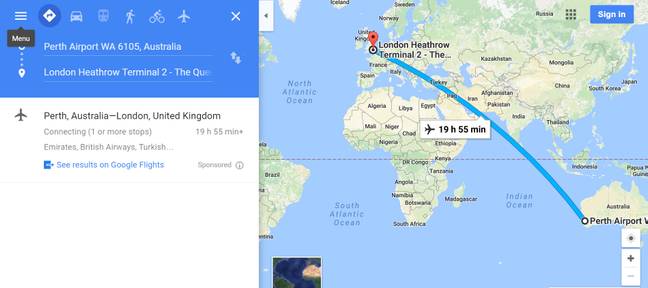 Just in case you failed geography at school. Credit: Google Maps
Currently, Emirates' flight from the UAE to Auckland is the longest in time, lasting 16 hours and 35 minutes and travelling 8,823 miles.
Qantas' chief executive, Alan Joyce, had this to say:
"Australians have never had a direct link to Europe before so the opportunities this opens up are huge," Joyce said.
"Our modelling shows that people from the east coast as well as South Australia would fly domestically to Perth to connect to our non-stop London service," he said.
"Some will take the opportunity to break their journey, whether it's for business meetings in Perth, to holiday or to visit family."
"From Melbourne and Sydney and all other destinations in Australia, it will save you an hour going through Perth compared to Dubai or Singapore or other destinations." Let's not forget that it's also great for us in the UK too, Alan son.
Alan Joyce, the lad. Credit: PA
The flights are expected to run 14 times a week and will go into the domestic terminal in Perth, meaning that the airport will get a serious makeover, too.
Now there really is no excuse to not visit long-lost relatives from either side of the planet. Bonser!