​A 33-Year-Woman Claims That She Is 'Engaged' To A Chandelier, Because 2017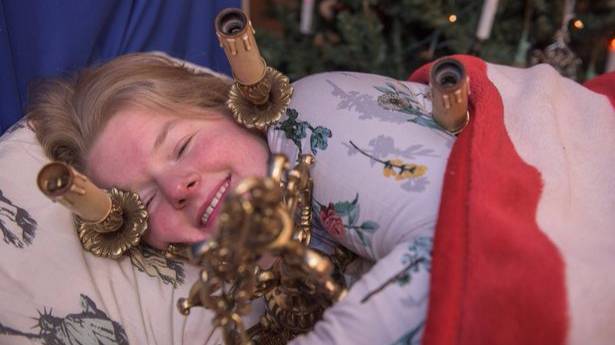 Amanda Liberty describes herself as 'Objectum sexual' and has previously been in love with a drum kit, the Statue of Liberty, and now is apparently engaged to a 90-year-old chandelier called Lumiere. This is, of course, totally fine.
In a bizarre story that is a bold statement about the planet Earth in the year 2017 - a 33-year-old woman from Leeds is 'engaged' to a 90-year-old.
Oh yeah, and the lucky bride to be is a fucking chandelier. Let that sink in for a second.
As I write, I am just imagining the kind of comments this will attract. Still, even the most tolerant amongst us must see that this is a bit odd.
Amanda Liberty describes herself as being in an open relationship with her collection of 25 chandeliers, and even sleeps with one (though it is not the one she is engaged to, and it's called Jewel, since you've asked).

Her 'lucky' bride, Lumiere, is a 28-inch-wide light that she bought on eBay for £400 after falling madly in love with it.
She said: "As soon as I saw Lumiere on eBay, I knew immediately that she was the one for me and it was love at first sight.
"She was based in Germany and although I knew it would be tricky to get her home, I knew I needed to find a way to make her mine.
"I couldn't stop thinking about her and how beautiful she was - she has such a beautiful shape, and I could feel really amazing energy coming from her.
"After buying the chandelier, I patiently waited for her to be imported into the UK and after six days of waiting, she was finally in my arms.
"She had been disassembled for her own safety, but once I put all her pieces together and she settled in to her new home, our relationship just went from strength to strength."
Well, so long as she's happy, right?
And she bloody well is. She describes herself as 'Objectum Sexual' which basically means that she is sexually attracted to household objects.
It is not unusual for her to kiss and cuddle her chandeliers, and she says that she first fell in love at age 14 with a drum kit that she refers to as 'Libby'.
She also fell in love with the Statue of Liberty (which explains why she changed her surname by deed poll in 2010) and has been to visit 'her' six times in New York.
If you'll excuse me, I'm off to stick some popcorn in the microwave whilst I wait for this article to arrive on Facebook.