John McAfee 'Arrested In Norway' After Wearing Thong As Face Mask
Tech tycoon John McAfee claims he has been 'arrested' in Norway after refusing to wear anything other than a black lace thong as a face mask.
McAfee, who is known for his namesake anti-virus software, posted a series of bizarre tweets that began by saying he'd been detained by authorities in Norway, saying his mask was 'the problem'.
The 74-year-old wrote yesterday: "I am being detained in Norway. Trivial issue but waiting for high level beaurocrats to arrive. Slow b******s, as you know.
"My Coronavirus mask is the problem. I am insisting it is the safest available and I'm refusing to wear anything else - for my health's sake. Authority!?!?!?!?"
He had planned to meet up in Munich with his group called the 'Red Scarf Society', but confirmed he was pushing the event back a few hours 'to be safe'.

McAfee tweeted an hour later: "Going to have to cancel the Red Scarf Society meeting. I am so sorry. Note to future adventurers: Always joke with you captors. No matter what."
At this point the tweeting was supposedly passed over to his wife, Janice Dyson, who said: "I'll manage John's account until he escapes (usual method), bribes someone (very quick - might be out in a few hours), retains the right lawyer (will be a few days) or becomes warden of the jail, in which case we will have to force him out."
She went on to explain more about the offending thong, saying he wasn't arrested for the garment itself, but for refused to replace it with a medically certified alternative - which she had also done.
"His thong mask: It doesn't recycle his exhaled carbon dioxide, like over the ear masks," Dyson said.
"(Breathing impaired people are exempt from wearing masks because masks impair respiration). Masks stop bacteria. Not viruses people! He was arrested for what he believes."
She added: "He was not arrested for wearing the thong as a mask. He was arrested for refusing to replace it with a 'medically certified' over the ear mask. I refused as well. But they chose to arrest John, and leave me be."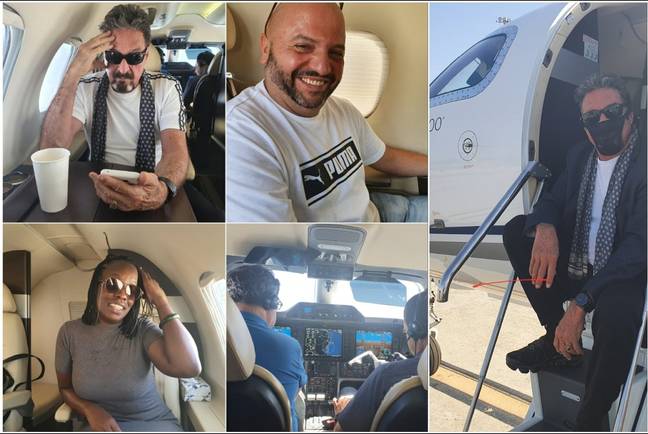 She clarified that while John had been 'arrested', she was merely' detained', but things apparently hadn't been too bad for her.

"John is the only person I know that can get you champagne while being detained!" Dyson said, sharing a video of herself holding a bottle of bubbly.
Eventually, Dyson was able to hop on her and McAfee's private jet, saying she'd been told to go home without him and wait for him there.
In a video filmed on board, she said: "Hello everybody, I'm here on our private jet.
"I received instructions from John through a private connection that he wanted me to go home and wait for his arrival.
"So, hopefully - you know him, he got this, so you'll be hearing from him soon, in a few hours I'm sure.
"In the meantime I'm headed home with our bodyguards and hopefully we'll be hearing from him in a few hours. Take care!"
LADbible has contacted authorities in Norway for a statement.