Eminem Releases Diss Ad For Music Critics Who Slammed His Album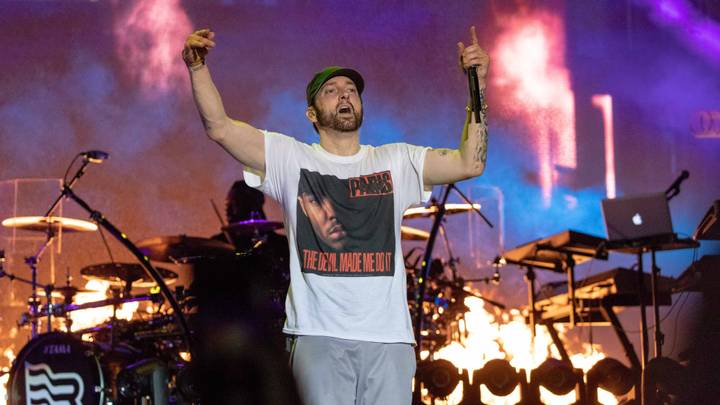 Since dropping his newest album Kamikaze at the end of August, Eminem has been on the offensive with his diss tracks.
His feud with Machine Gun Kelly really heated up in the past week when the pair serious shade at each other and now Shady's at it again - but this time it was at music critics with nothing good to say about his new music.
He threw the hits at his haters with no less than a full-page ad in the Hollywood Reporter magazine - of course, what else would you do?
Lots of music critics were quick to hand out negative reviews on Eminem's (real name Marshall Mathers) record-breaking album and (rightly) even had a go at him for using a homophobic slur on Kamikaze.
But Eminem was quick to clap back at the critics who, in his full-page ad, in which he trolled them all while marketing his new album.
"NOT FOR YOUR CONSIDERATION!" the ad reads. "Thanks for the support assholes!" The ad also includes the record's impressive sales figures, with as the sleeve artwork set as the background illustration.
Of course, he's recently saved most of his energy for his hot feud ongoing with fellow rapper MGK.
Both artists have been embroiled in a back-and-forth quarrel since Eminem dropped his number one album, on which he, reportedly, laced his song 'Not Alike' with jabs at the 28-year-old hip-hop artist.
Next, Kelly hit back with his own diss track, 'Rap Devil' - a song that is just 4.45 minutes of shade.
In the song he goes after Slim Shady for his 'weird' beard, being 'sober and bored' and his last four albums - which were, apparently, 'as bad as your selfie'.
However, 45-year-old Eminem kicked back at the young rapper with a brutal new track called 'Killshot'.
On the track Shady goes for a real knockout blow when he raps: "But I'm 45 and I'm still outselling you / By 29 I had three albums that had blew / Now let's talk about somethin' I don't really do / Go in someone's daughter's mouth stealin' food."
But Kelly said the song missed its intended target, taking to Instagram to say he hadn't lost any game.
Since then various theories have emerged about the pair - one being that MGK could be the inspiration behind Em's hit song 'Stan' and even that the beef is just all a big act, due to the fact both artists' diss tracks where produced by the same person.
An end to the quarrel doesn't seem to be in sight, which I suppose is either good news or another thing to roll your eyes at, depending on how much you like underwhelming beef. Grow up, lads.