Some tattoos can be baffling, but most of the time the owner can find some kind of justification as to why they have them.
This, though, is pretty out there.
Kenny Ollerenshaw, a trucker from Cumbria, has an inking on his chest which makes it look like he's a tiny little truck driver steering his own body.

Sounds confusing, doesn't it? Have a butcher's...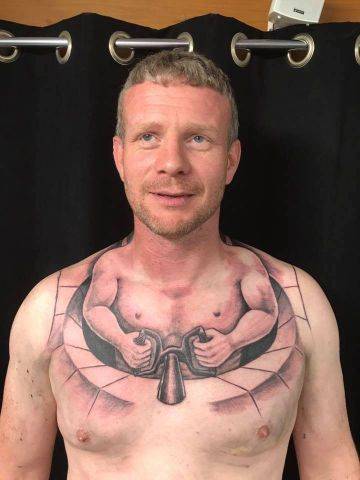 Hurts your head a bit at first, but then you come round and see that it's some Men in Black type shit, and his body actually ends above his nipples, where above a small man sits driving.
Father-of-one Kenny, who lives in Silloth, loves the tattoo which he says is 'interactive' as it moves with him. In total it took four hours to complete, and straight after he showed his son.

"He thought it was cool but I wasn't expecting it to go viral, it's all gone a bit mad and my son has told my mum that I'm famous," he said. "I keep looking at it in the mirror and thinking it's just crazy. You should see what happens when I tense my pecs.
"My family are all on board with it. The way I look at it is if people don't like it then they don't have to wear it."
He does concede that the artwork hurt him a bit as tattooist Richard Batey neared the final stages, blaming the pain on a lack of adrenaline.
"You're supposed to fuel up on sugar before you have one done but all I'd eaten were a couple of burgers," he said.
Batey, who has experience with cars, felt qualified to do the tat as he has a good mechanical understanding. He also thinks it's the first of its kind.
"When Kenny came in he was up for having this done as a chest piece. The result is just the start. There's a long way to go," the tattooist said. "It has 1.1 million views and 2million likes on Facebook - and it isn't even finished yet."
He added: "It's what I'd call an interactive tattoo and it's more of a shocker than anything else.
"It's got the ability to make an entire room of people smile and laugh and get them talking."
What do you think, like it? Or a bad decision?
Featured Image Credit: KTD Media
Topics: Tattoo