Baboons With Knives Reported To Be Roaming Around Knowsley Safari Park
Baboons armed to the teeth with knives and screwdrivers have reportedly been spotted at an animal safari park in England.
Seriously, what the f*** else could 2020 possibly have in store for us?
Just when you think it can't get any worse, there are gangs of highly armed primates cutting about a popular attraction.
This whole situation was noticed when workers at Knowsley Safari Park spotted the troop of monkeys carrying tools about with them.
The keepers at the park are worried that the baboons might have been armed by visitors 'for a laugh' in the hope that they'll start damaging other people's cars whilst they are going through the drive-through safari enclosure.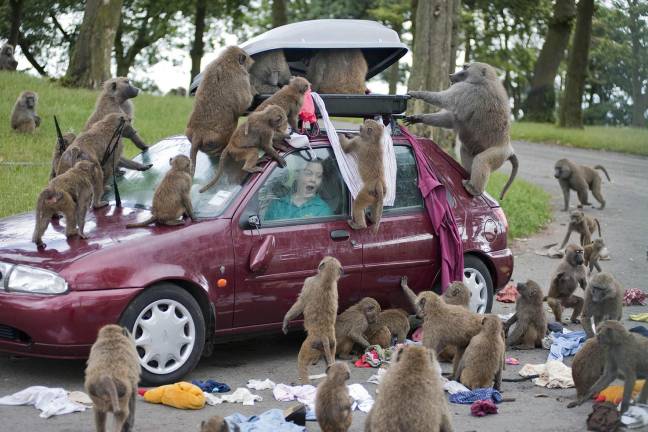 Anyone who has ever been to Knowsley Safari Park - or any other like it, for that matter - knows that the monkeys don't need arming to wreck the s*** out of your car.
Other people have speculated that the monkeys have simply made off with the tools after nicking them from the toolboxes of workmen who have been into their enclosure.
Again, this is not an unlikely speculation, given the propensity of baboons to grab stuff and make off with it.
Usually it's just windscreen wipers and registration plates that they get away with, but now it seems they've managed to get tooled up in more than one way.
A mechanic from Sale told The Sunday Times: "I've had two customers this year who became victims of those baboons.
"The kids start chirping up saying they want monkeys all over the car, and the next thing you know, you're driving home with no registration plate."
One worker from the park - who is unnamed - said: "The baboons have been found with knives and screwdrivers. I do wonder if it's some of the guests handing them out."
However, there's a good chance that this whole thing is just a product of people telling tall tales about the park.
Sure, the monkeys might manage to get their hands on the occasional thing, but it's unlikely that they've ever grabbed something that could be truly dangerous to anyone.
It has been reported that the troop of baboons has managed to grab things like chainsaws, but that's almost certainly a load of old nonsense.
A spokesperson for Knowsley Safari Park said: "We believe many of these stories have grown in exaggeration as they've been retold, with embellishment to make the objects that are sometimes found in the enclosure seem more exciting and unbelievable."