Footage of Travis Scott appearing to encourage a fan to jump from a balcony at a gig in 2017 has resurfaced in the wake of the tragedy that took place at the rapper's Astroworld Festival on November 5.
Eight people died after a crowd crush during Scott's performance at his own event last Friday with over 300 more injured, and the star has come under the spotlight. More than 32 lawsuits have been filed since the weekend.
However, people are also looking back into Scott's career. The video clip from his performance at Terminal 5 has been used by some to point out that the 30 year-old has had a history of displaying a reckless attitude when it comes to the well-being of his fans.
In the footage the fan can initially be seen having already climbed over the second-floor railing.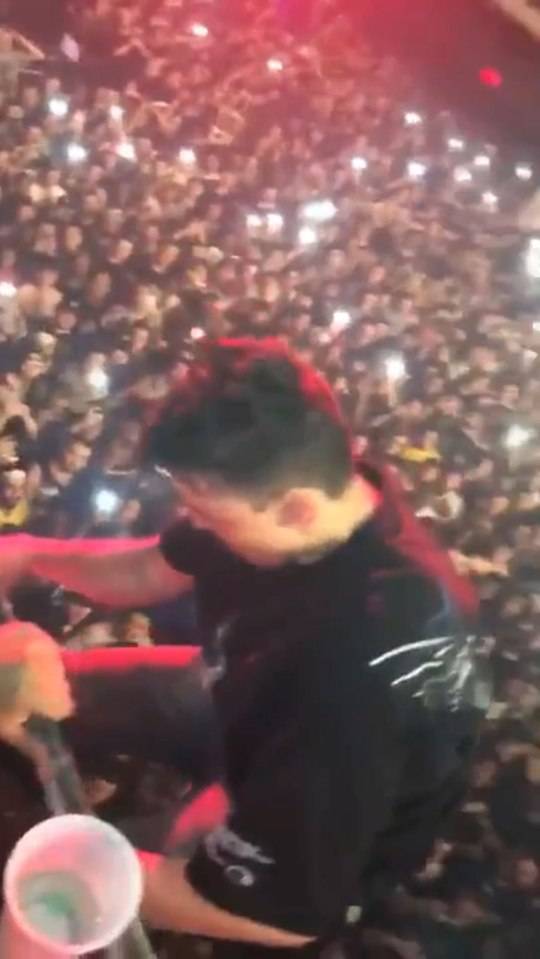 From there, Scott asks for the lights to be turned on before addressing the fan, saying, "I see you, but are you gonna do it?"

Scott then reassures him, "They gonna catch you. Don't be scared. Don't be scared!"
The fan then seemingly decides to drop onto the onlookers below - though it was not reported whether he suffered any injuries.
One person who did suffer injuries on that night, however, was 27 year-old Kyle Green.

In a lawsuit filed following the show at Terminal 5, Green's attorney claimed that the then-23 year-old was toward the front on the top of the balcony at the venue before he says he was pushed off when he fell to the ground below.
As a result of this, Green sustained a significant fracture to his ankle, which ended up needing to be fused. In addition to his fall, the suit claimed that when the security guards at the venue picked his client up, they did not put him on a backboard or use a neck brace.
He was instead allegedly 'improperly removed from the subject premises without a cervical collar, backboard and other safety precautions'.
These claims were denied by security firm Strike Force in 2018 in a filed answer.
Nevertheless, Green was subsequently confined to a wheelchair after suffering injuries that included fractured vertebrae, a broken left wrist and fractured right ankle.
He was also left paralysed on his left side, but has since regained some of his abilities and is now partially paralysed.
Reacting to the events that took place in Houston over the weekend, Green's attorney said his client "was extremely upset and sad for the devastation to these people and to their families - the people who were killed and the people who were horribly injured.
"At the same time, he was really angry at Travis and at Travis' team, including his security, etc., because Travis clearly hasn't learned from what has previously transpired or what previously occurred. He hasn't learned."