A Covid patient from Louisiana would rather go to hospital again than get vaccinated.
Scott Roe told CBS News that 'there's too many issues with these vaccines' and that's why he doesn't want to get one.
After contracting pneumonia due to Covid-19, he quickly became ill and was soon sent to hospital.

Despite fighting for his life, his mind still hasn't been changed on the vaccine.

Scott said: "Here I am recovering, getting out of here finally tomorrow. Am I going to get a vaccine? No."
He didn't go into any specific details why he refuses to have the vaccine.
The US Centers for Disease Control and Prevention (CDC) describes the Covid vaccines as 'safe and effective'.
"Don't shove it down my throat," Scott continued, "That's what local, state, federal administration is trying to do - shove it down your throat.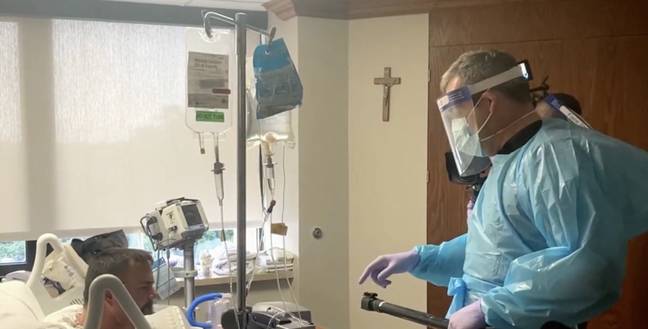 "They're shoving the fact that that's their agenda, their agenda is to get you vaccinated."

When asked if he would have taken the chance to get a vaccine to prevent himself from being hospitalised, Scott said he would still say no, even after seeing how sick Covid made him.
He said: "I would have gone through this, yes sir."
Scott isn't the only person from the state that seems to feel this way. Only 39 percent of Louisiana residents having received one dose, which happens to be the lowest percentage of any state apart from Mississippi (38 percent).
Rep Steve Scalise, one of the most popular Republicans in Congress who represents Louisiana's 1st district, received his first jab last Sunday (18 July) and urged locals to get the vaccine.
After speaking to NOLA.com, Scalise said: "Especially with the Delta variant becoming a lot more aggressive and seeing another spike, it was a good time to do it.
"When you talk to people who run hospitals, in New Orleans or other states, 90 percent of people in hospital with delta variant have not been vaccinated. That's another signal the vaccine works."
Scott told reporters that he knew of Rep Scalise but refused to agree with evidence that has proven the vaccines to be effective.
It is said that over 900 people in the state are currently in hospital with coronavirus.
In neighbouring state Alabama, a doctor recently described the heart-breaking scenes she has witnessed at her hospital during the pandemic.
Dr Brytney Cobia, from Alabama, US, was forced to tell dying patients who wanted a vaccine that 'it's too late.'
In a post to her Facebook page, she said: "I'm admitting young healthy people to the hospital with very serious Covid infections. One of the last things they do before they're intubated is beg me for the vaccine.
"I tell them the best way to honour their loved one is to go get vaccinated and encourage everyone they know to do the same.
"They cry. And they tell me they didn't know. They thought it was a hoax. They thought it was political."