An emotional Joe Biden shed tears during an incredibly personal speech as he prepares to leave his home to become the President of the United States tomorrow.
In his speech, he thanked his supporters and the state of Delaware, in which he was raised, as well as paying respect to the memory of his late son, Beau.
Biden will be inaugurated as the 46th President at a swearing-in ceremony in Washington DC tomorrow.
Fighting his tears, Mr Biden told supporters: "It's kind of emotional for me.
"Look, you were with me my whole career, through the good times and the bad.
"In our family, the values we share, the character we strive for, the way we view the world - it all comes from home.
"It all comes from Delaware."
Biden went on to speak about how he met his wife Dr Jill Biden in his home state, and lamented that his son, a former Delaware Attorney General, couldn't be there to enjoy the occasion with him.
Beau Biden died on January 6 2015 after a long battle with brain cancer, and the speech took place at the Major Joseph R. 'Beau' Biden III National Guard/Reserve Center, which was named after him following his death.
Speaking on a podium bearing his name, his father continued: "I only have one regret, that he's not here, because we should be introducing him as president.
"But we have great opportunities, Delaware has taught us anything's possible, anything's possible in this country.
"It's deeply personal that our journey to Washington starts here."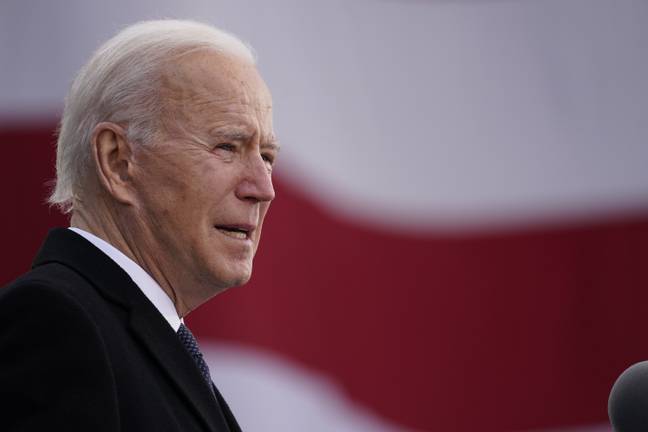 After addressing his supporters, Biden boarded a plane to the US capital, where he will preside over a memorial service commemorating the almost 400,000 Americans that have died throughout the ongoing coronavirus pandemic.
Vice President elect Kamala Harris will also be present at the ceremony. Speaking about his running mate, Biden said: "And here we are today - my family and I - about to return to Washington to meet a black woman, of south Asian descent, to be sworn in as president and vice president of the United States,
"As I told Beau on that station waiting for Barack - and Hunter and Ashley - I said don't tell me things can't change.
He added: "That's America. That's Delaware. A place of hope and light and limitless possibilities.
"When I die, Delaware will be written on my heart and the hearts of all of the Bidens.
"We love you all, you've been there for us in the good and the bad, you never walked away, and I am proud - proud, proud, proud to be a son of Delaware and I am even more proud to be standing here doing this from the Major Beau Biden facility."