A loyal family dog in China went on a 62 mile-long quest over 14 days to be reunited with her owners after escaping the temporary care she'd been left in.
One year-old golden retriever Ping An, meaning 'safe and sound', was taken to her owner's friends' in Nantong, 100 kilometres away from their home in eastern China's Qidong City, so she could be looked after while their home underwent house renovations.
However, Ping An evidently felt anything but safe and sound and four months later her temporary custodians were devastated to discover she'd made a break for it.
What was incredible, however, was that she turned up 14 days after her escape - back in Qidong City!
Noticeably thin and suffering from bleeding paws thanks to the 62 mile trek, the pooch was spotted limping outside an office building by workers on a job in the area, who subsequently took her in and tracked down her owners.
According to her rescuers she looked 'quite depressed after she was unable to find her owners', as you would be after walking so far to find them.
They also took pictures of the dog upon finding her, showing her lying on the road, clearly in need of a good feed and with her head down. Thankfully, however, Ping An was able to be reunited with her family, after the workers started sharing information of the rescue on popular Chinese messenger app WeChat.
Recognising their beloved hound from the social post, the family picked her up from the company's site while, in a heart warming video, they were shown stroking and hugging the pet having been reunited.
In the video, they say to their pet: "Ping An, you've worked hard. You just stay home from now on. [We] would never send you away."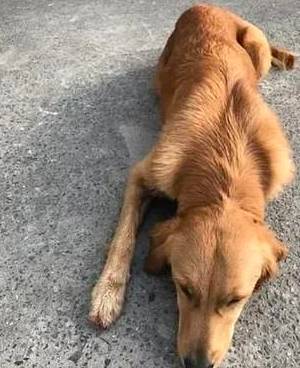 Now recovering from her injuries after being taken to the vet, her owners have said they'll never leave her alone again.
Remarkably this is the second time in recent months that a dog has taken on the arduous task of finding its owners in China, after seven year-old Dou Dou walked an agonising 37 miles in 26 days to find her owners.
Showing perhaps a little less care than Ping An's family, Dou Dou was left behind after a service station break on a journey in the car from their home in Hangzhou out to the countryside to visit relatives.
In fairness they did realise as soon as they reached their destination and rushed back to Tong Lu Service Station within hours to search for Dou Dou, only to find no trace and heartbreakingly admit she was probably gone for good...
Imagine their surprise then when she turned up back in Hangzhou nearly four weeks later, appearing on their doorstep looking grubby and incredibly emaciated. Incredibly she didn't have any injuries, but needed some food and a wash quickly.
You know what they say about dogs being a man's best friend.