Emergency services are working to retrieve the body of a man who became trapped in a water slide support pipe in the United States.
On Monday morning, crews were called to Eldorado Aquatic Park in Scottsdale, Arizona, after receiving reports of a 32-year-old man who was stuck.
Scottsdale police spokesman Officer Kevin Watts confirmed to ABC15 that a man had died.
According to the news channel, police said that at about 12.30am, an officer heard muffled cries for help as he patrolled the area.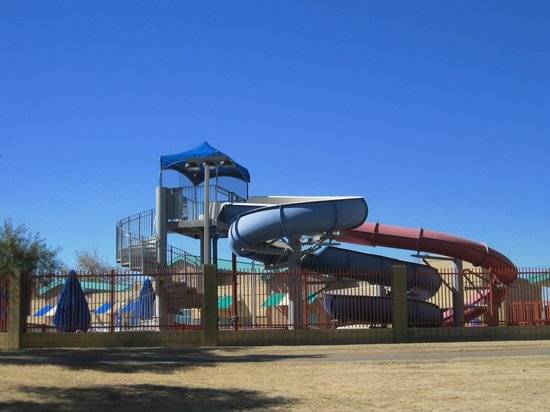 Eventually, he realised they were coming from one of the pipes that help to hold up a water slide at the park.
Police managed to communicate with the victim but he is said to have stopped speaking at about 2am.
According to ABC15, it's thought that the man was a transient, with officials reporting that he had climbed over a tall fence to get up on the slide.
It's not known how, but he then got stuck in the pipe that supports the structure.
Crews have been working to take apart the slide in order to get the body of the victim out.
The water park is now closed, and according to reports in The Daily Mail, the incident is currently under investigation, with The Maricopa County Medical Examiner to determine the cause of the man's death.
Water parks in Arizona were closed for a period of 30 days at the end of June, as part of the state's response to the coronavirus pandemic, with Governor Doug Ducey issuing an executive order.
Ducey said the order's expiration date of 27 July was an 'aspirational goal', dependent upon Covid-19 figures and hospitalisations unfolded, having called the state's numbers 'brutal' at the time.
"We can't be under any illusion that this virus is going to go away on its own," Ducey said.

Featured Image Credit: Trip Advisor
Topics: US News