The iconic Nokia 6310 'Brick' has been re-released with a revamped design for its 20th anniversary.
Despite an upgrade in specs, those over the age of 25 will be delighted to know that the phone will, indeed, feature the legendary 'Snake' game that many of us would play on our parent's phone back in the day.
First launched in 2001, the seemingly indestructible 6310 was later updated in 2002 as the 6310i, before being discontinued in 2005.
Tweaks to the new version include a tiny 2.8-inch screen compared with an even tinier 1.8-inch screen.
It will also include 320x240 pixel definition compared with the original's 120x160 pixels in 2001.
The new phone will only set you back £59.99 on the Nokia website, which is a drop in the ocean compared to what other smartphones cost.
The website description reads: "The new Nokia 6310 takes the iconic silhouette of the original and brings it up to date with some great new additions such as a large curved screen, improved readability and accessibility.

"Plus a host of classic features you know and love: a wireless FM radio, an impressive battery that can go weeks between charges, and let's not forget the classic Snake.
"It's all built in a tough shell [made from paolycarbonate], so it can take life's bumps.
"The Nokia 6310 is the familiar phone, for the modern world."
The handset comes in three colours - black, yellow and dark green.
Options also include 16 MB RAM and 8MB of internal storage, along with dual Sim capability, which is always handy.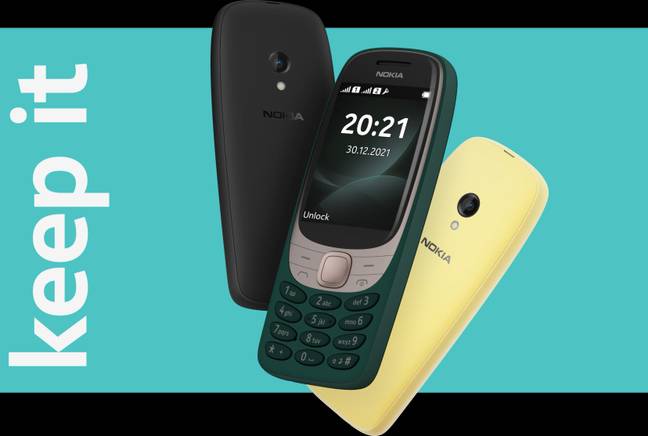 Adam Ferguson, Head of Product Marketing at HMD Global, the home of Nokia phones, said: "They don't make them like they used to is a phrase we've disowned. We still bring that signature build quality to all of our devices.
"We recently launched the new Nokia XR20, a life-proof smartphone that in my eyes, is a modern day Nokia 3310 in a smartphone and now the Nokia 6310 is back and better than ever.
"For all feature phone lovers, it's the original and iconic model and whilst its 2.8-inch curved window screen may be new, it still retains its familiar design and functionality.
"As one of the trailblazers in making mobile go mainstream in 2001, it's no surprise to see its impact 20 years on.
"It's a legacy that the new Nokia 6310 will continue way into the next 20 years."