Viral 2016 Picture Shows How Different New Year's Eve Was This Year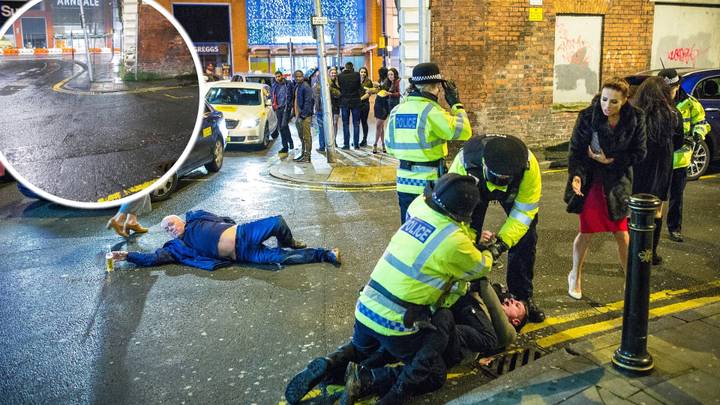 A photographer went back to the scene of one of his most famous shots to capture the stark difference between New Year's Eve 2020 to those in years gone by.
Joel Goodman shot this iconic shot in Manchester city centre in the early hours of 1 January 2016 - I'm sure you've seen it before, because it's excellent and pops up on social media every year.
This New Year, Manchester, much like large part of England, is in Tier 4 - so Goodman went back out to the same spot with his camera to capture how different things looks
In a strong contrast to our revellers from 2015, in the early hours of 2021 the street was completely empty - apart from a blue car, which interestingly enough is in the same place there was a different blue car five years ago.
Goodman's 2021 photo has also gone viral, with his post picking up more than 25,000 likes and thousands of retweets.
One person wrote: "Great idea Joel, what a contrast to your previous shot. Happy new year, look forward to seeing more of your pictures in 2021 and let's hope next new year's image is a bit more lively."
Another wrote: "A great and surprisingly poignant photo. Happy New Year to you."
While a third added: "Possibly the most effective representation of the pandemic."
But while most people behaved themselves, and stuck to the Tier 4 rules, today Greater Manchester Police said between 5pm yesterday and 7am this morning (1 January), they handed out more than 100 fixed penalty notices to those flouting the rules.
Most of these were given out at house parties, Greater Manchester Police said, but some were 'larger incidents requiring enforcement'.
Assistant Chief Constable of Greater Manchester Police, Chris Sykes, said: "We're pleased that the vast majority of people followed the Government's request to remain indoors and celebrate within their household or support bubble.
"It wasn't the way any of us wanted to enter the New Year, but we're grateful for the public's support.
"2020 has been a difficult year for everyone across the region, including our hard-working officers and staff. I'd like to thank them for rising to the unprecedented challenges we have faced.
"Unfortunately there were a number of incidents last night that required their continuing professionalism.
"I'm sure the right-thinking majority of our residents will join me in condemning this irresponsible behaviour, which puts lives at risk.
"I would urge people to remain strong during what will hopefully be the final few months of restrictions. Protect your loved ones, each other and our NHS by continuing to follow Government rules.
"If everyone does their part we can look forward to a brighter year ahead."