Video Shows Two Men Impersonating Police Officers And Searching A Flat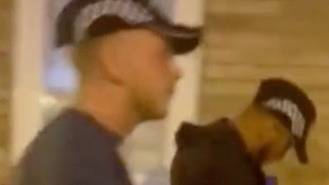 Police are on the hunt for two men who were filmed impersonating officers and searching a flat. Watch the shocking confrontation below:
A video shared on social media shows the two suspects wearing 'crude' caps and harnesses, demanding to be let into a property in London on Tuesday (12 October).
After initially allowing them in, the homeowner becomes suspicious and asks them for some identification.
However, unable to produce anything, the two men then leave after being confronted by the concerned homeowner - who caught the final part of the incident on camera.
The Metropolitan Police is now searching for the two suspects and urging people to come forward with information.
A spokesperson for the force said: "Police were called at 18:51hrs on Tuesday, 12 October to a residential block in The Shaftesburys, Barking IG11.
"A woman reported that two men had attended her address. They were claiming to be police officers and were dressed in crude uniform including caps, harnesses and 'asps' (batons) and said they were there to search the property.
"They were initially allowed in before the residents became suspicious and asked to see their identification, which they could not produce.
"Upon being further challenged the suspects left the address. They were followed and fled in the direction of Abbey Road.
"Officers attended and conducted an area search but the males could not be located.
"It is not believed that anything was stolen from the address and there were no reports of any physical injuries."
An investigation has been launched but no arrests have yet been made.
Anyone with any information about the incident is urged to call 101 and use reference number CAD 6640/12 Oct.
Police arrested Gary Shepherd this week after he approached a woman in a car park in Barrow while wearing a blue lanyard with 'police' written on the strap.
At around 6.30pm on 5 October, the 44-year-old told the woman that he was arresting her for drug dealing.
A passer-by responded to the woman's cries for help and challenged Shepherd, asking him for ID.
He was later arrested and has now been jailed for 22 weeks.