'Black Alien' Gets Two Fingers Sliced Off To Create Extraterrestrial Claw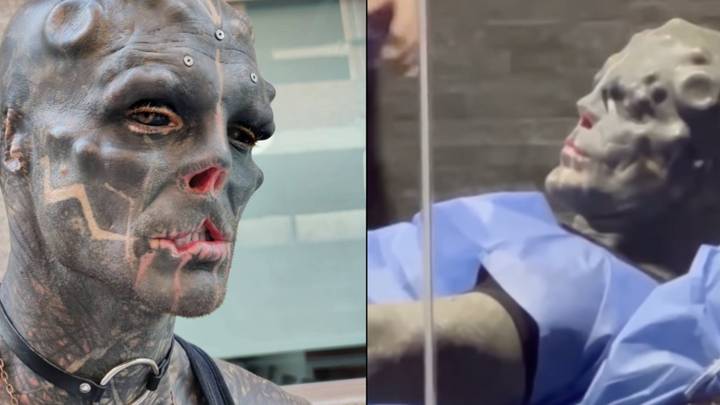 A 33-year-old Frenchman who has radically transformed his body in a bid to transform himself into a 'black alien' has shared his latest update after getting two fingers on his left hand amputated in order to form a freakish extraterrestrial claw.
Check out the clip of him post-surgery here:
Anthony Loffredo is on course to become the most heavily-modified person in history and he regularly takes to Instagram under the name Black Alien Project to document his ongoing quest to transform himself into an extraterrestrial being.
In addition to his latest round of surgery, Loffredo has also undergone a number of other shocking procedures, including getting his nose and upper lip cut off, his tongue split and his entire body - including his eyeballs - covered in tattoos.
But despite this, the 33-year-old still maintains in a recent post that he is only 34 percent of the way through his transformation.
In his latest round of body mods, Anthony flew out to Mexico where he opted to have two perfectly healthy fingers removed from his left hand, sharing a video of his new look on Instagram with the caption 'I develop my inner peace' written in English and Spanish.
But despite living his dream, the physical cost of his transformation has taken a heavy toll on his health.
The Frenchman has had to travel far and wide for his various procedures, heading to Spain last year to have his nose surgically removed as the operation is illegal in his native country.
He has also had his ears removed and had dermal implants put in his face, which gives his skin a bumpier texture and has created chiselled lines across his cheekbones.

"From a very young age, I have been passionate about mutations and transformations of the human body," he told the French paper Midi Libre in 2017.

"I had a click when I was a security guard. I realized that I was not living my life the way I wanted. I stopped everything at 24 and left for Australia," he told the outlet.
"I love getting into the shoes of a scary character. I often settle down somewhere and play a role, especially at night in the dark streets... I explore the contrast between the role I play and myself," he added.
Featured Image Credit: Instagram/@the_black_alien_project
Topics: Alien