Man Uses Woman Snapchat Filter For Tinder Profile And Gets More Than 300 Matches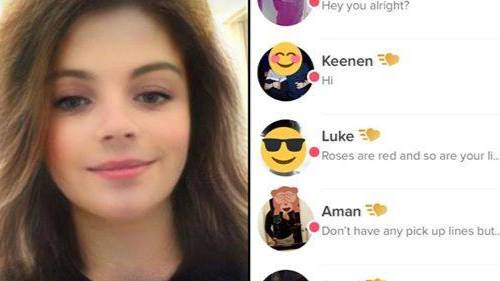 You're probably aware that people have been having a lot of fun with Snapchat's new filters of late, which can make you look like a girl or a boy. But one guy has taken it to the next level by setting up a Tinder account for the female filter version of himself - and it turns out she's very popular with the fellas.
Jake Askew, from Norwich, UK, said he decided to set up the account because he thought he looked 'unreal' with the filter and it soon transpired that loads of blokes agreed. More than 1,650 'liked' his profile and he received between 300-400 matches .
'Jess' - who is actually Jake, who is a student at University of Derby - also revealed that lots of blokes got in touch to make some rather indecent proposals.
Speaking to LADbible, the 20-year-old said: "One chap asked 'Are you a piece of art because I want to nail you up against the wall'. Another talked to me about his 'pork sword' and one bloke simply asked me to 'sit on his face'.
"I didn't let anyone know about it, I'll keep em guessing."
Mr Askew also said he never expected to get so much attention, even though he did think Jess looked unreal.
He said: "To be fair I looked at myself with the Snapchat filter on and thought I looked unreal, showed my mate and we thought we'd make a Tinder just to see if I'd get any matches from it... Obviously didn't expect to be liked by over 1600 thirsty lads."
Mr Askew shared his results on Twitter, in a tweet that has since been liked more than 6,300 times.
The tweet read: "So rather than going out, me & SJ decided to see how far Jess could go on tinder.. within an hour I was the most popular girl in Derby."
Hats off to the guy really - maybe these blokes won't be so quick to unsheathe their pork swords in future.
LADbible Tales is our new community group, where YOU can post stories you'd like to see featured on our channel.
It might be something that's happened to you and your mates, articles you've seen online, inspirational people, unbelievable events, random WhatsApp chats, or those everyday observations that make you smile. You can find it here!