Disney Is Opening A 'Star Wars' Hotel Where You Get Your Own Storyline
If you were planning on going on holiday any time soon - STOP. STOP WHAT YOU'RE DOING RIGHT NOW. I don't care if you've booked it - cancel.
Disney has announced that it's making a new Star Wars hotel. But get this. As soon as you get there, you'll become a 'citizen' of the galaxy. You'll be provided with a costume and your own storyline, and when you look out the windows, all you'll see is deep space. How amazing does that sound?
This genuinely sounds like the best idea anyone's ever had. Ever.
It comes under the new Disney '360 vacation' concept, which basically means it'll be a living adventure.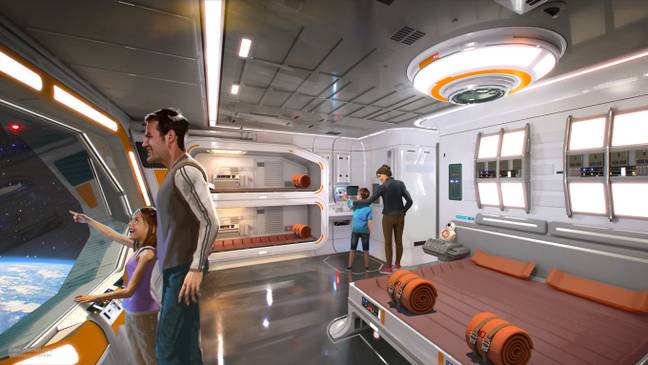 Bob Chapek, Chairman of Walt Disney Parks & Resorts, said: "It's unlike anything that exists today.
"From the second you arrive, you will become a part of a Star Wars story. You'll immediately become a citizen of the galaxy and experience all that entails, including dressing up in the proper attire.
"Once you leave Earth, you will discover a starship alive with characters, stories, and adventures that unfold all around you. It is 100% immersive, and the story will touch every single minute of your day, and it will culminate in a unique journey for every person who visits."
We don't know much right now, but according to TechCrunch, all of the employees (or 'cast members') will be in costume and in character. Each guest will get a storyline, which Disney specifically says will 'touch every single minute of your day', and it's meant to take place on a space ship so the 'windows' will only show space.
It looks like it's being launched at Florida's Walt Disney World and we don't know exactly when it'll be launched so you better get saving now.