£20,000 David Beckham 'Lookalike' Claims Sugar Daddies Are Funding Dream To Look Like Brooklyn Beckham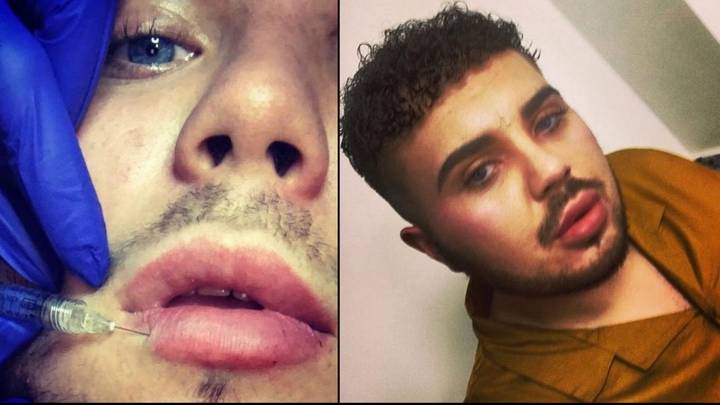 It's true, isn't it, that the more people age, the more they want to look younger. Take Katie Price for example. And it also seems this is the same with lookalikes (or look nothing likes).
That's because the bloke who spent £20,000 ($26,674) on surgery to make him look like David Beckham now claims he's homeless and has five sugar daddies funding a new dream to look like Brooklyn Beckham.
Maybe he's realised that he looks nothing like Golden Balls so let's have a crack at his son.
Twenty-one-year-old Jack Johnson told the Mirror that he wants a 'younger, fresher' appearance after attempting to emulate his football idol, 43, for years.
He claims five 'sugar daddies' are paying for his transformation into the retired footballer's 19-year-old son. If at first you don't succeed, try, try and try again - with a twist.
Jack told Mirror Online: "I've been busy finding myself over the last few months and now I want to look like Brooklyn Beckham." He must have been to Thailand, you know with everyone else who's 'finding themselves'.

He continued: "David is obviously very attractive but he's getting older now and I want a younger, fresher look.
"Brooklyn is more in the limelight and now when I go to my surgeon or beauty therapist, I take a picture of him."
Jack sparked a major backlash after his This Morning appearance with hosts Phillip Schofield and Holly Willoughby, telling them he was holding out on getting a job until something in the media came up - but he didn't want to have anything 'chucked' at him and wanted to work his 'absolutely butt off'.
Despite being £30,000 ($40,025) in debt and 'sofa surfing' between friends, he is not giving up on the dream.
Jack explained: "It is costing me a fortune and I'm not working so I have about five sugar daddies.
"I don't have to do anything intimate with them, I just go out for luxury dinners and attend exclusive events by their side.
"It's a simple transaction - they're not really my friends."
According to the Mirror, Jack was forced to leave his home last year because he spent all his rent money on surgery.
But he claims that being a sugar baby allows him to enjoy the finer things in life, saying: "I'm homeless, well, sofa surfing with friends and family, at the moment because I can't afford to live alone.
"I was spending all my rent money on my face. My daddies make sure I can afford the surgery and they give me amazing gifts like designer handbags and clothes.
"I'm always drinking champagne and eating nice food."
Jack is a fan of the 'vampire facial' which involves drawing blood from a patient's arm before splattering it onto their face using tiny needles. Blood, needles, face - sounds like something we would have to be forced to endure.
But not Jack because the cosmetic procedure sets him back around £750 ($1,000) and he says: "It gives my face a Hollywood shine and gets rid of wrinkles."
The 21-year-old also gets HD brows done every two weeks and fillers injected into his jawline. He undergoes regular thread facelifts and dermaroller treatments.
"I'm booked in to go to Turkey to have my teeth done soon," Jack said.
"I want the veneers to be the same shape as Brooklyn's teeth but dead bright and fake looking." Oh brilliant, we can't wait to see these.