Dave Bautista Adopts Abused Puppy And Offers $5k Reward To Find Abuser
Dave Bautista has revealed he's now adopted a puppy that was 'horribly abused and left for dead', having also offered $5,000 to anyone with any information on the 'sick piece of s**t' responsible.
The former professional wrestler took to Instagram last week to share the heartbreaking story of a puppy who was abused, saying he would 'personally' pay $5,000 in cash to 'the person who gives information leading to the arrest and conviction of the sick piece of s**t responsible for this'.
In an update, Bautista said he had good and bad news about the situation, writing on Instagram: "UPDATE! Sage was horribly abused and left for dead. Here's her update."
In the video, he explained: "The bad news is we don't really have any solid leads now, we're gonna try and catch this person responsible - a three-month-old puppy that was horribly abused and needed surgery."
He added: "But the good news is, today, the puppy you know as Sage actually became Penny Bautista - so I'd like to introduce you to the newest member of my family."
Holding the newly-renamed and re-homed Penny, Bautista continued: "And there she is, healing up, nice and recovered.
"She is now a Bautista and she will never be abused again a day in her life - not a second in her life. She's about to live her best puppy life ever."
Bautista is still offering the cash for any information, saying he was also receiving assistance from Humane Society Tampa Bay, which is offering an extra $1,500, and Alvarez Injury Law, which is matching his $5,000 cash.
"So that's $11,500 for any information leading to the arrest and conviction of this person," he said.
Walking Dead star Jeffrey Dean Morgan previously commented on Instagram to say that he'd throw another $500 into the pot, while actor Mickey Rourke offered $1,000.
Earlier this month, the Humane Society Tampa Bay said on Facebook that the dog formerly known as Sage had been brought in 'with a metal chain embedded... hanging from her neck'.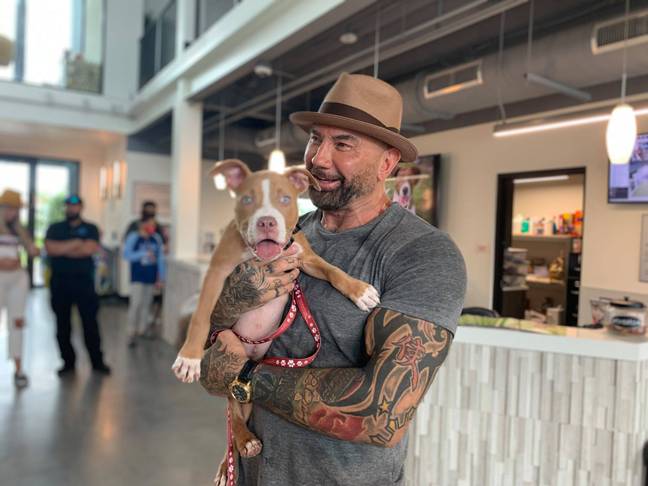 "A Good Samaritan was driving on the way home, and saw Sage eating garbage at 'The Home Cemetery'," the post said.

"She stopped and Sage immediately ran up to her. She put Sage in the car and rushed over to HSTB.
"Sage is only 3-months-old. She is very sweet and friendly. Even though she is in immense pain Sage was wagging her tail on the exam table while our veterinarian and vet techs were examining her.
"In addition to the chain, we noticed that Sage has skin issues and overgrown nails. We can't imagine who would do this to her."
Speaking to Tampa Bay Times, Sherry Silk, CEO of the Humane Society of Tampa Bay, said Sage 'went home in Dave Bautista's Rolls Royce', adding: "Talk about a rags to riches story."