Megan Fox may be the woman that's deemed so attractive that a Chinese businessman claims to have paid a whopping $3.7m to have sex with her (unsurprisingly, it didn't turn out to be her as it was all a hoax), but it seems that even she can't get a break.

The Transformers star has some high profile acting gigs to her name - including horror flick Jennifer's Body, How To Lose Friends And Alienate People, New Girl, This Is 40 and the Teenage Mutant Ninja Turtles reboot - but there's something other than her acting and looks that people seem to be interested in.
When it comes to Fox, apparently her thumbs are the popular area of discussion. Yeah, her thumbs.
People actually noticed a while ago that her thumbs are a bit 'squashed', or 'clubbed', or even resemble a toe, rather than an actual thumb. However, it seems it's still not deemed old news - with people left, right and centre still tweeting in shock.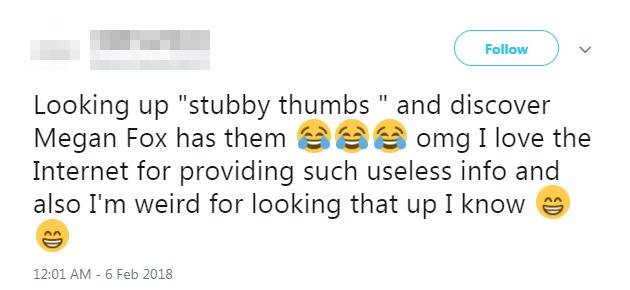 Fox has previously spoken about her thumbs, having a bit of a laugh with Jay Leno about them.
While discussing pregnancy, she explained that she had told her mum she was really craving tuna - which pregnant people apparently can't eat because of the mercury.
"She was like 'Oh I ate tuna every day when I was pregnant with you'," Megan says, quoting her mother.
"They didn't know in the 80s about that and I was wondering that maybe that's what happened to my thumbs - why they're so, like, short."
Showing Leno her thumbs, she adds, sadly: "They're weird and they're really fat."
MEET THE WOMAN WHO LOOKS LIKE MEGAN FOX... WITHOUT THE THUMBS:

Turns out the shape of her thumbs is due to a condition called brachydactyly, an inherited condition caused by unusually short bones, according to Health Line.
The obvious and most common symptoms of the condition are shortened fingers and toes, which other family members are likely to have, too. The sufferer is really in no danger from any health risks. It's thought that two different mutations in a certain gene contribute to brachydactyly.
But thumbs and all, The Transformers star still managed to nab herself a very, erm, coveted accolade - coming in second place on a list of celebrities people most wanted to have a threesome with, in a poll conducted by the group behind dating app 3Somer. Lucky lass...
Featured Image Credit: PA