One of the world's most popular games has been given the ultimate festive twist from what might be the world's favourite Christmas film... That's right, it's time to play Elf Monopoly.
Manufactured by USAopoly, gamers are promised a 'trip down memory lane' in this re-imagined version of Monopoly, with iconic characters, locations and quotes from the 2003 movie starring Will Ferrell.
"Relive the hilarious movie Elf featuring the journey of Buddy The Elf from the North Pole where he passed the seven levels of the candy cane forest, through the sea of swirly-twirly gum drops, and then through the Lincoln Tunnel," the listing on Amazon says.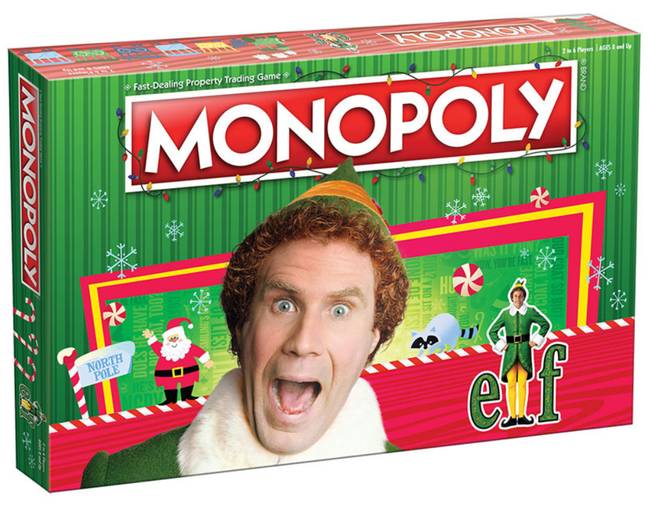 In the game, you can buy, sell and trade your way to Christmas Cheer (Community Chest cards) and Christmas Spirit (Chance cards) with hopes of becoming the last one standing.
There are also six custom sculpted tokens: Santa's Sleigh, Polar Bear Cub, Jack-in-the-Box, Mailroom Coffee Mug, Santa's Bag and Maple Syrup.
It's designed for two to six players aged eight and up, with a minimum play time of 60 minutes.
USAopoly's game instructions explain that gamers use the original Monopoly game rules along with 'Special Rules' for this edition.
"Join Buddy the Elf in the magical land of New York City, and relive his adventures as he explores new places, finds his father, and saves Christmas with Santa," they say.
"Celebrating the classic holiday comedy, this custom edition of Monopoly will have you collecting and trading wonderous landmarks along the path of Buddy's journey, like Santa's Workshop, Gimbel's Toy Department, and the Lincoln Tunnel.
"Grab a token and your elf shoes, and travel around the board spreading Christmas cheer - and don't forget to sing loud for all to hear! Set forth on your quest to own it all, but first you will need to know the basic game rules along with custom Monopoly: Elf rules."
If you're based in the United States, the game is available to buy for $39.99 (£31) plus shipping from the USAopoly website. You can also purchase it over at Amazon.com (that's right, the US version of the site) for $62.99 (£49).
Sadly, if you're across the pond in the UK, USAopoly doesn't do international shipping - though you can go for the Amazon option if you're willing to fork out an estimated $28.77 (£22) for delivery and customs charges, and are happy to wait until 7 December for it to be in stock.
LADbible has contacted Hasbro, the UK manufacturer of Monopoly, to see if there are any plans for the game's release for Brits.