Happy Gilmore Golfer Shooter McGavin Returns In PGA Tour 2K21 Trailer
Christopher McDonald's iconic Happy Gilmore character Shooter McGavin has returned to screens - having featured in a teaser video for a new PGA golfing game.
While McDonald has an extensive back catalogue in film, for many people he'll always be remembered as Shooter McGavin, the cocksure golfer from Adam Sandler's 1996 flick Happy Gilmore.
And he's stepped back into character in a new teaser for PGA Tour 2K21, throwing a fit worthy of his showboating sportsman alter-ego in the footage.
Ahead of the game's release this week, a new trailer highlights its online multiplayer function, with famous faces roped in to demonstrate it in action.
"What happens when @JustinThomas34, infamous villain golfer @chrismcdonald50, @schoolboyq and @mikethemiz get together for a round of #PGATOUR2K21?" a tweet from the game's account says.
"A whole lotta swingin'... and a whole lotta shoutin'."
Alongside McDonald's Shooter McGavin, others include athlete Justin Thomas, WWE superstar The Miz and rapper ScHoolboy Q.
"Kids, guess who?" Shooter says to his rivals through a headset at the beginning of the clip, while the others roll their eyes.
ScHoolboy Q holds up a yellow blazer that looks a lot like the one Shooter lost to Happy Gilmore in the film, taunting: "Look what I found at the thrift store!
"I got this jacket and I got this game too."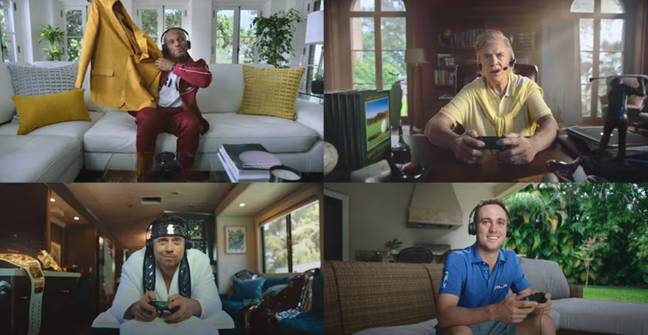 Shooter replies: "That doesn't belong to you!"
Later in the clip, Shooter's trademark rage comes out in full force, throwing the controller onto the desk.
"THIS ISN'T REAL GOLF!" he yells, as he slams his headset down in front of him, before swiping objects off the desk in a fit of rage and storming away from his seat.
When the camera returns, he's busy smashing up the room as he shouts: "Why do I lose so much?"
Vowing to return, he mutters: "I'm gonna get back at you guys."
The video seemed to do the trick for fans, with many commenting on Twitter to say they were excited to play the game.
One said: "So pumped for this game. Can I get it early?"
But many others were also left thinking about another idea.
"Ok @PGATOUR2K you know Shooter has to be a playable character in the game now....right?" someone tweeted.
Another agreed: "If Shooter McGavin isn't a character in this now, I'm gonna kick off!"
Someone else added: "It's time for Shooter McGavin to make his debut in #PGATOUR2K21 Come on guys, make him a future DLC."