Parents Slam 'Inappropriate' Squid Game Doll At UK Shopping Centre
Parents have slammed an 'inappropriate' Squid Game doll on display at a popular shopping centre, saying it should not have appeared in a 'family environment'.
The giant animatronic doll popped up at The Trafford Centre in Manchester as part of a UK tour, with fans also handed a free circular cookie as a nod to the Dalgona Candy Challenge from the show.
Ahead of the activation, people were told the photo op would only be available to those aged 16 and over, due to the grisly nature of the Netflix series.
A video of the replica doll in action was posted on the Manchester Evening News' community Facebook group Manchester Family, where many parents flocked to the comments to have their say.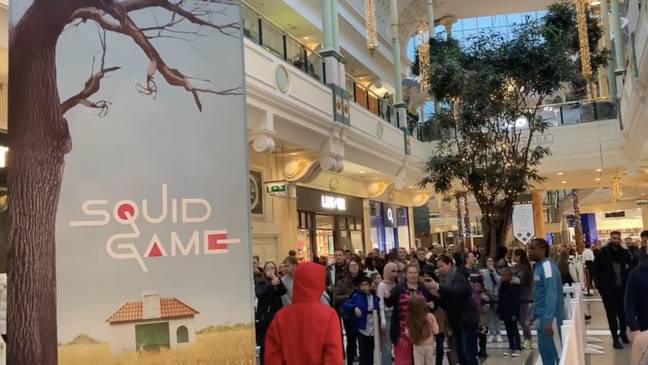 One person said the figure 'feels massively inappropriate', while another agreed: "Not sure this is appropriate in the middle of a busy shopping centre. My five and six-year-old don't know what Squid Game is, but have asked me because a teacher mentioned at school in assembly that they must not watch it.
"They can both read, so no doubt when we go to the Trafford Centre my six-year-old will read the signs and know a little about the Squid Game that she didn't know before... as a teacher and a parent this is not a great move, we are trying to protect our kids from this. Not promote it in areas that are frequented by families."
Someone else said: "I was a massive fan of this programme it was fantastic but this really is not for children viewing/access the shopping centre should be ashamed of themselves!"
Another said the programme was 'violent' and therefore the doll 'should never have been allowed in a family environment', while one other person added: "Horrific programme and really shouldn't be in there and surprised by bosses who let it be in. Not exactly a family viewing programme is it."
Some also felt frustrated that a talking Christmas tree had been removed because it was deemed 'too scary', but that the doll had been allowed.

"They got rid of the talking Christmas tree because it was too scary and replaced it with this??" one fumed.

However, not everyone saw the issue, with one commenting: "People are worried about a b****y robot from a popular TV series but will walk their kids past [Ann] Summers."
Another said: "It's also acceptable to tell your children it's from a programme for adults and older children and adjust your Netflix settings so your children can't watch it. As a parent you set your own boundaries and a crazy doll in a shopping centre isn't really a big challenge to parenting."
A spokesperson for The Trafford Centre told the MEN: "The Squid Game activation in the centre was a static, one-day selfie opportunity for adult fans of the popular Netflix TV show to enjoy. The doll appeared as part of a UK tour, allowing fans aged 16 and over to see the doll close-up and pose alongside for pictures. Anyone aged under 16 had to be accompanied by an adult."
Emma Gill, Parents Editor for the outlet, also said: "Most children who are unaware of the series would just have thought it was a doll. It's not particularly scary on its own and it only means something to people who have watched the show."
Gill argued that children 'hear things at school' regardless of what happens at home, adding: "There were lots of people queuing to see the doll, but equally plenty of families who have no interest in it simply walked on by."